More News
Rocking on Top o' the Snow
Posted by Flippy on December 26, 2014 at 2:00 PM
On the twelfth day of winter, Toontown gives to you:
The Great Snowball Fight,
Cheerful Christmas costumes,
Surlee's lost package?,
Fancy furniture items,
The whitest winter ever,
Brand new holiday styles,
Twice the gag experience,
AND A MEGAAAAAA COG INVASION!
(bum bum bum...)
Blizzards full of snow,
Wacky winter carols,
Trees and lights o'plenty,
And a holiday packed with very merry news!!!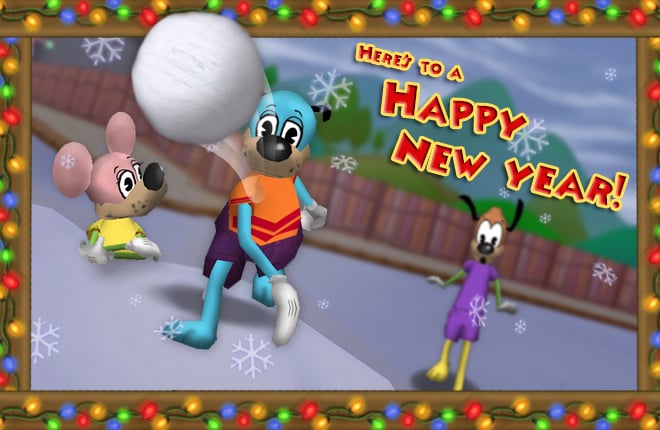 Whew.
What a mouthful! It's finally the final day of Toontown's 12 Days of Winter, and boy has it been a blast. Just look at all of those updates! Let me tell you, it isn't easy organizing one of these posts every day. Now I know how Sir Max felt last year with the Daily Updates.
Christmas may be coming to a close, but we have one last event to keep your spirits jolly over the rest of our Winter Holiday. Toons and Toonettes, it's time for the second annual
Great Snowball Fight!
Snowpiles have been shoveled in every playground to use as forts for your epic battles of grand proportions, and all you have to do is run up to them to grab as many snowballs as you can carry.
It's been a great Winter Holiday, and although the Twelve Days of Winter end today, you can keep on enjoying all of our holiday hilarity up until
December 29th
, where we'll take everything down and get set up for our New Years event!
As
Slappy used to say
, and as we'll continue to do in honor of him, let the Great Toontown Snowball Fight
COMMENCE!
---
Comments
Sorry! Comments are closed.
---
---
---
---
---
---
---
---
---
---
---
---
---
---
---
---
---
---
---
---
---
---
---
---
---
---
---
---
---
---
---
---
---
---
---
---
---
---
---
---
---
---
---
---
---
---
---
---
---
---
---
---
---
---
---
---
---
---
---
---
---
---
---
---
---
---
---
---
---
---
---
---
---
---
---
---
---
---
---
---
---
---
---
---
---
---
---
---
---
---
---
---
---
---
---
---
---
---
---
---
---
---
---
---
---
Back To Top