More News
Waiting for the Winter Wonderland
Posted by Professor Flake on December 18, 2014 at 2:00 PM
On the fourth day of winter, Toontown gives to you:
A blizzard full of snow,
Wacky winter carols,
Trees and lights o'plenty,
And a holiday packed with very merry news!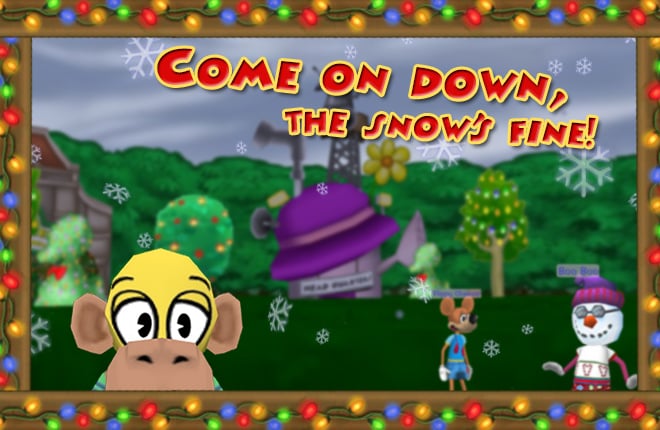 I don't want to say I told you so, but according to the records --
I did.
As if it weren't cold enough in the Brrrgh, something really wacky is going on with the weather indeed.
Through my research at the Precipitation Foundation, it seems that Doctor Surlee's Super-Duper Air Conditioner has not only gone haywire once more, but managed to increase it's scope to
create snowfall on the entirety of Toontown.
Where in the Tooniverse am I going to go to get some fresh air now? It's even snowing in Daisy Gardens!
Grab some scarfs, hats, and snow-goggles -- because my data is showing that this blizzard isn't stopping anytime soon. I'm anticipating that it will run through the end of the Winter Holiday at the very least, and who could predict what chaos will occur if it manages to accumulate? (Answer: I can!)
I need to get researching on this thing. This could finally be our big break to find the origin of that plagued air conditioner and shut it off for good! Stay warm while you can, Toons -- I'll be waiting in the Winter Wonderland.
---
Comments
Sorry! Comments are closed.
---
---
---
---
---
---
---
---
---
---
---
---
---
---
---
---
---
---
---
---
---
---
---
---
---
---
---
---
---
---
---
---
---
---
---
---
---
---
---
---
---
---
---
---
---
---
---
---
---
---
---
---
---
---
---
---
---
---
---
---
---
---
---
---
---
---
---
---
---
---
---
---
---
---
Back To Top