More News
Toontown's Twelve Days of Winter!
Posted by Flippy on December 15, 2014 at 2:15 PM
On the first day of winter, Toontown gives to you:
A holiday packed with very merry news!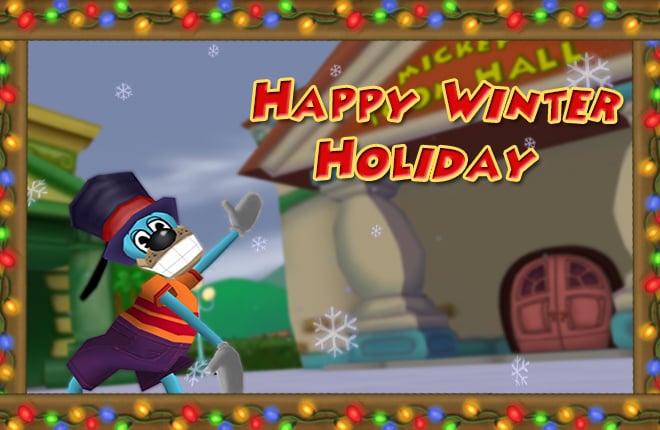 Happy Winter Holiday from the Toon Council, Toons! You know Spray the Halls, Lure Good Cheer, Toontown's Merry, and more -- but have you ever heard the Toontastic tune of Toontown's Twelve Days of Winter? I guarantee that you most certainly haven't, and I'm here to teach it to you!
Over the next 12 days, from
December 15th to 26th
, special events will be happening every day as part of our silliest celebration of the holidays yet! We have all sorts of surprises ready -- and some of them that I'm sure will be interrupted by whatever the Tooniverse throws at us! The best part about Holidays in Toontown is that you never know what to expect, and I can tell that this year is going to be bigger than better.
So grab some hot cocoa, jump into Toontown, and get your Christmas Cheer ready -- because Toons from around Toontown will be posting news to deliver all-new holiday events to you, both big and small, every day for the next 12 days! Today's announcement is the first event, and Sir Max will be kicking off the second tomorrow.
I won't be posting every day of the event, so in case I don't see you before then -- Merry Christmas, Happy Hanukkah, Happy Kwanzaa, and have a great Winter Holiday!
---
Comments
Sorry! Comments are closed.
---
---
---
---
---
---
---
---
---
---
---
---
---
---
---
---
---
---
---
---
---
---
---
---
---
---
---
---
---
---
---
---
---
---
---
---
---
---
---
---
---
---
---
---
---
---
---
---
---
---
---
---
---
---
---
---
---
---
---
---
---
---
---
---
---
---
---
---
---
---
---
---
---
---
---
---
---
---
---
---
---
---
---
---
---
---
---
---
---
---
---
---
---
---
---
---
---
---
---
---
---
---
---
---
---
---
---
---
---
---
---
---
---
---
---
---
---
---
---
---
---
---
---
---
---
---
---
---
---
---
---
---
---
---
Back To Top