More News
Rollin' Away the Christmas Tree
Posted by Sir Max on December 16, 2014 at 2:15 PM
On the second day of winter, Toontown gives to you:
Trees and lights o'plenty,
And a holiday packed with very merry news!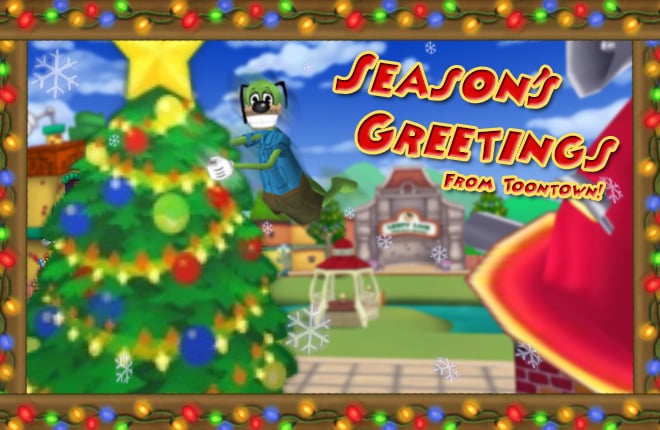 Admittedly, I've never been too much of a fan of the traditional carols. Some hoppin' "Jingle-Drop Rock", an epic piece of "Carol of the Cogs" -- and my personal favorite, "Rolling Away the Christmas Tree" -- now that's my style.
Oh, that wasn't a typo. I really did mean
"Rolling Away"
the Christmas Tree, not
"Rocking Around"
. Part of my Toon Trooperly duties again this year was to set up the
Christmas decorations and lights all around Toontown
, and boy was that a blast. Today is the first day of Hanukkah, the holiday of lights, after all. Walt only knows why they'd allow me to do it again after the
Great Blizzard of '02
, but what can I say? I'm a natural at exterior design.
Now, although we needed lights, I certainly wasn't going to give in and
buy
any! Sadly, the Brrrgh's heating system was strictly off limits this year. Not like that would stop me, but they protected that thing pretty well since last year. Barbed wire, electric fences, and the worst of all:
warning tape.
There was no getting through it.
Luckily, I stopped by my pal Hawkheart's estate to help him load up the prized Christmas tree he has been growing, and in that instant I conjured up a plan. I loosened up an end of the rope tying in the tree onto his kart, so right when he moved forward that thing went rolling away!
Away to the tree I flew like a flash, jumped on top of it and started a pretty quick dash. It plowed through the street leading to Hawkheart's estate, wrapping up all of the lamp posts and lights along with it. They're perfect decorations! Sure, those lamp posts were probably there to serve as... Well,
lamp posts
, but it's not like we ever use them. Really, when was the last time it got dark around here?
Once again, I'd tack this feat onto the Sir Max List of Good Ideas as an even better one than last year. We've got our lights, a huge
Christmas Tree standing tall in Toontown Central
, and nothing could ever go wron--
Oh, hey there Hawkheart. Heh.
Well, I better run.
Literally!
See you soon, Toons, and have a great Winter Holiday!
December 16, 2014 [ttr-beta-v1.7.3]
Bugfixes:
• Fix a crash relating to the friend manager.
• Fix a bug where gardening laff boosts would disappear after logging out. (They've been restored!)
• Fix the "Last Seen" field on the Toon Detail Panel to display the proper date.

Features:
• Add a holiday look and theme song to the Pick-a-Toon.
• The Twelve Days of Toontown has begun! Check the blog every day for new events leading up to the most festive finale yet.

---
Comments
Sorry! Comments are closed.
---
---
---
---
---
---
---
---
---
---
---
---
---
---
---
---
---
---
---
---
---
---
---
---
---
---
---
---
---
---
---
---
---
---
---
---
---
---
---
---
---
---
---
---
---
---
---
---
---
Back To Top