More News
Super Saturday: The Blizzard Wizard
Posted by Sir Max on December 21, 2013 at 2:00 PM
Ah, Christmastime! It's such a wonderful representation of the good spirit of the season, whether you celebrate the holiday or not. Also, consumerism!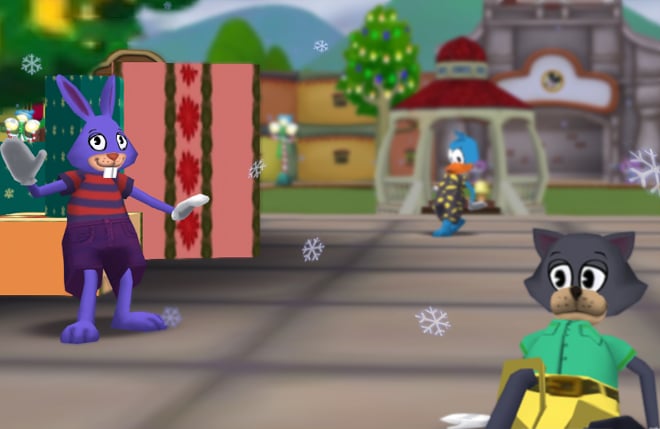 No toon wants to be part of the scum of consumerism, though. Business. Pfft. The natural enemy of fun. You aren't even going to believe this: For decorations, the Toon Council was actually intending on
buying
lights. I know, I know. Always looking out for Toontown, I quickly put a stop to that. "Where are you going to get the decorations, then?" They asked. The answer is simple:
Remember that heating system we installed into the Brrrgh? It's actually
lightbulb powered
. Who needs an actual heating system when incandescent bulbs work just as well? Anyhoo, I went over to the heating system and unscrewed all 7,352 bulbs, covered them in a few various coats of paint, then strung them around the trees of Toontown.
Problem solved, right? Errrr. Sort of. Alright, so you know that old guy who owns the Blizzard Wizard on Walrus Way? Yeah, it turns out he is sort of an actual wizard. To get vengeance for the loss of his heating system, he put this whole spell on Toontown to spread the blizzard of The Brrrgh to all neighborhoods of Toontown so that we can all suffer in the coldness with them.
So maybe my plan wasn't too well thought out, and maybe we're all huddled together right now searching for warmth. Of course, none of that matters. Have you
seen
those lights? They're beautiful! Time to add yet another victory to the Sir Max List of Good Ideas.
Enjoy your winter vacation, toons!
December 21, 2013 [ttr-alpha-g225071c]
Maintenance:
? Improve code for Holidays and Events
? Updated whitelist to add some British spellings of words

Bugfixes:
? Unlock the inside doors of Gag Shops, Pet Shops, and Toon HQs

Features:
? The last of the shopkeepers in Donald's Dreamland have moved in!
? Changed Pick-a-Toon to a new winter design
? Decorated Toontown with lights from The Brrrgh's heating system.
? Erect Christmas Tree in Toontown Central. Don't forget to rock around it!
? Lil' Oldman, who turns out to actually be a Blizzard Wizard, cast some sort of spell throughout Toontown to share the freezing conditions of the Brrrgh. Snow is falling everywhere!

---
Comments
Sorry! Comments are closed.
---
---
---
---
---
---
---
---
---
---
---
---
---
---
---
---
---
---
---
---
---
---
---
---
---
---
---
---
---
---
---
---
---
---
---
---
---
---
---
---
---
---
---
---
---
---
Back To Top