More News
Daily Alpha Update: Carol of the Cells
Posted by Sir Max on December 22, 2013 at 2:00 PM
I'm telling you guys, I just can't seem to get a break. I'm sure you all remember the Ice Rink incident last month, how the Brrrgh wasn't really happy about it. We worked it out though, right? We did work it out, at least, we did until I took away their heating yesterday. Lil' Oldman isn't the only one angry about that, apparently. These people just don't appreciate free Christmas lights.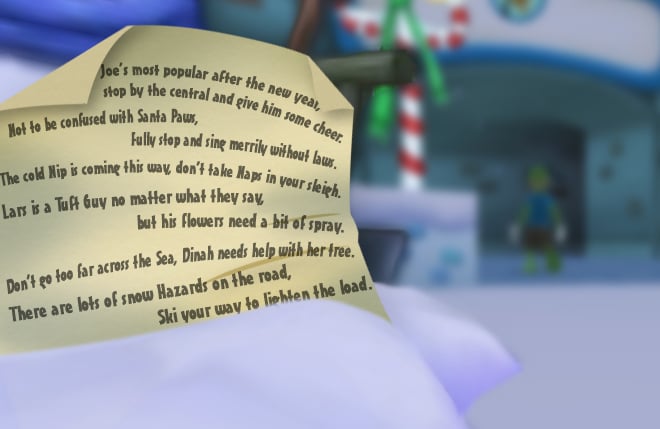 So I got called back in today, and I'm now sentenced to some community service. I've gotta run all around Toontown singing Christmas Carols to toons. Not too bad, right? I mean, I am an
excellent
singer.
Exquisite
, as some may say! Well, no, it isn't that bad. Except for the fact that this list is in gibberish and Clarabelle isn't selling jackets yet.
On top of that, as I was writing this post my list just blew off somewhere. Oof. If anyone happens to find it, though- no need to return it. In fact, how about you guys just sing the carols for me? I need to save my voice for Christmas day. We can't have it getting damaged, right?
Whew! I knew I could count on you guys. So if you see the list, just go ahead and go to all of those places and sing the correct carols for me. I did
not
definitely just bury the list underneath a pile of snow in the Brrrgh, so you'll probably not find it there.
Thanks for the favor, and see you around!
December 22, 2013 [ttr-alpha-g4104383]
Maintenance:
? Whitelist Update

Bugfixes:
? Fix a backend issue with Trolley Tracks

Features:
? Add winter SpeedChat Menu
? Teach everyone how to sing carols. Don't forget the list!

---
Comments
Sorry! Comments are closed.
---
---
---
---
---
---
---
---
---
---
---
---
---
---
---
---
---
---
---
---
---
---
---
---
---
---
---
---
Back To Top