More News
Baby, there's Cold Callers Outside
Posted by Toon HQ on December 19, 2014 at 2:00 PM
On the fifth day of winter, Toontown gives to you:
A MEGAAAAAA COG INVASION!
(bum bum bum...)
Blizzards full of snow,
Wacky winter carols,
Trees and lights o'plenty,
And a holiday packed with very merry news!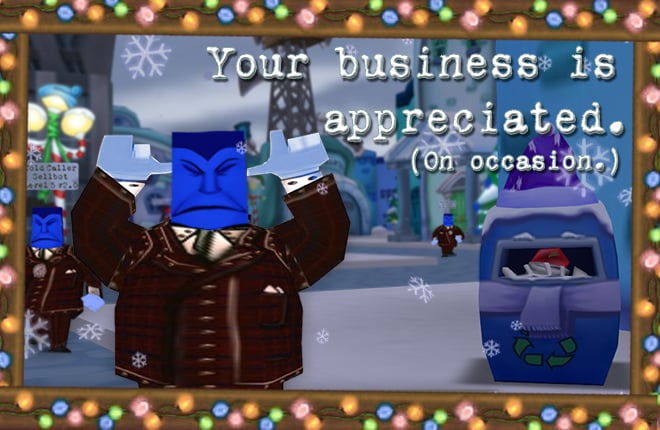 ATTENTION ALL TOONS: A Mega-Invasion has Begun!
Version 2.0 Cold Callers are taking over Toontown!!!
The cold weather isn't the only thing cold around here, Toons. According to the Cogs, 'tis the season for buying, which means that the Sellbots were more than overjoyed to send a fresh batch of their newly-constructed Version 2.0 Cold Callers onto the streets of Toontown!
The icy skies are messing with our telescope, but we're predicting that the Mega-Invasion waves will continue until tomorrow at least. There's no time for Winter Holiday cheer today -- we need to get out there and get those Cold Callers before they freeze our assets!
Enjoy your holidays, Toons, but be careful out there. Version 2.0 Cogs have an extra layer of protection under their suit to keep them alive twice as long, but the
Resistance Rangers will be out and about today
to help you out. We've managed to secure these districts from the invasion, which you can hop into to stay away from the winter chills: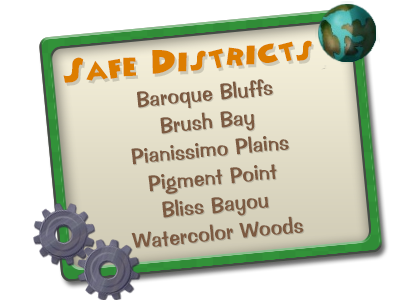 Stay warm, stay alert, and most of all -- stay cheerful!
December 19, 2014 [ttr-beta-v1.7.5]
Maintenance:
• Cleanup for gardening.
• Improve logic for playground Toon-Ups.
• Improve client logging.

Bugfixes:
• Potentially fix an issue with certain gardens not growing.
• Fix a rare issue with estates not loading correctly.
• Fix an exploit where client-to-client Battle SOS whispers could be sent to all players in a zone.
• Fix an exploit where custom whispers could be sent to all players in a zone.
• Custom clients from other servers can no longer be connected to Toontown Rewritten.

NOTE: Toontown for OSX won't work in this version of Toontown Rewritten. Sorry for the issue, folks, but we need to fix a few things! We'll get it back to you as soon as possible. In the meantime, we recommend running it via Bootcamp, Wine, or another machine with Windows installed.

---
Comments
Sorry! Comments are closed.
---
---
---
---
---
---
---
---
---
---
---
---
---
---
---
---
---
---
---
---
---
---
---
---
---
---
---
---
---
---
---
---
---
---
---
---
---
---
---
---
---
---
---
---
---
---
---
---
---
---
---
---
---
---
---
---
---
---
---
---
---
---
---
---
---
---
---
---
---
---
---
---
---
---
---
---
---
---
---
---
---
---
---
---
---
---
---
---
---
---
---
---
---
---
---
---
---
---
---
---
---
---
---
---
---
---
---
---
---
---
---
---
---
---
---
---
---
---
---
---
---
---
---
---
---
Back To Top