More News
You're a Mean One, Mr. Caller
Posted by Lord Lowden Clear on December 20, 2014 at 2:00 PM
On the sixth day of winter, Toontown gives to you:
Twice the gag experience,
AND A MEGAAAAAA COG INVASION!
(bum bum bum...)
Blizzards full of snow,
Wacky winter carols,
Trees and lights o'plenty,
And a holiday packed with very merry news!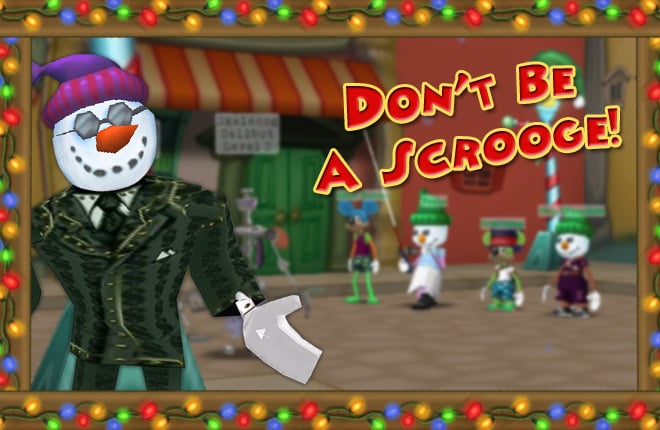 You're a mean one, Mr. Caller. The Toons, with the help of our Resistance Rangers, have been fighting hard against Version 2.0 Cogs -- but things are getting tricky. I figured it was time to play my card and step in to activate the most cheerful event of the Season: (For us Rangers, at least...)
Double Experience Day!
For the next 24 hours, Toons will be able to run around with double experience while fighting of the remaining Version 2.0 Cold Callers in the invasion. It's a great way to boost up that Gag Experience before Christmas Day, and also a great way to start off for any new Toons in town!
We've heard the news going around the Tooniverse lately, so there has never been a better time to start off a new Toon and bring your laff up quickly. Until next time, keep them busting -- with laughter!
Lord Lowden Clear
Leader of the Toon Resistance
December 20, 2014 [ttr-beta-v1.7.6]
Maintenance:
• Further improve server stability after the exploit fix.

December 20, 2014 [ttr-beta-v1.7.7]
Features:
• Further implement events for Toontown's Twelve Days of Winter. Keep an eye on the blog for new content!

Bugfixes:
• OS X users can now play Toontown again!

---
Comments
Sorry! Comments are closed.
---
---
---
---
---
---
---
---
---
---
---
---
---
---
---
---
---
---
---
---
---
---
---
---
---
---
---
---
---
---
---
---
---
---
---
---
---
---
---
---
---
---
---
---
---
---
---
---
---
---
---
---
Back To Top