More News
Dreidel, Dreidel, Dreidel, I Made It in the Snow
Posted by Shockley on December 23, 2014 at 2:15 PM
On the ninth day of winter, Toontown gives to you:
Fancy furniture items,
The whitest winter ever,
Brand new holiday styles,
Twice the gag experience,
AND A MEGAAAAAA COG INVASION!
(bum bum bum...)
Blizzards full of snow,
Wacky winter carols,
Trees and lights o'plenty,
And a holiday packed with very merry news!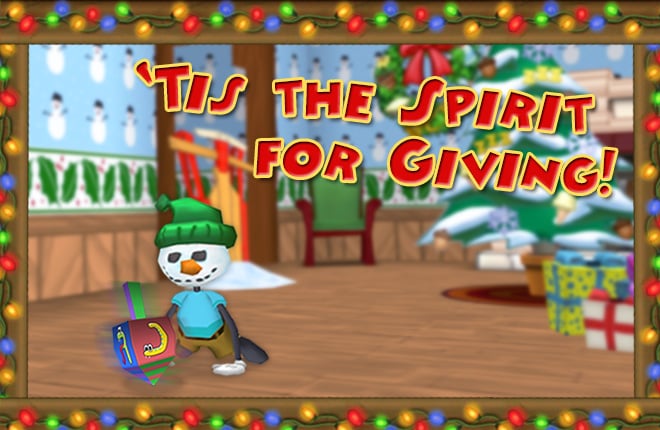 Shockley here -- One of Toontown's Toon Troopers in charge of construction and all of that junk. Can you believe that tomorrow is not only the
last day of Hanukkah
, but
Christmas Eve
as well? We're wrapping things up with only two more days left of the Twelve Days of Winter -- and you're certainly going to enjoy them!
Today's gift introduces an all-new type of furniture I've been toying with:
Interactive Furniture
. The first test run of my new product starts with an item up for order in your Cattlelog Issue:
The Dizzy Dreidel
. Why should furniture sit around like
furniture
when it can spin around and do all sorts of fun interactive things? Answer: It shouldn't!
When you put your Dreidel down in your house, just tap it and it will jump up and start whirring around. It may not seem like much, but this is only the test run of my brand new line of Interactive Furniture products!
Let me know if you have any sweet ideas, and we'll get them published into the Cattelog. Have a great Winter Holiday everyone -- I hope you have fun with Interactive Furniture!
---
Comments
Sorry! Comments are closed.
---
---
---
---
---
---
---
---
---
---
---
---
---
---
---
---
---
---
---
---
---
---
---
---
---
---
---
---
---
---
---
---
---
---
---
---
---
---
---
---
---
---
---
---
---
---
---
---
---
---
---
---
---
---
---
---
---
---
---
---
---
---
---
---
---
---
---
---
---
---
---
---
---
Back To Top