More News
Dreaming of a White Winter
Posted by Paula Behr on December 22, 2014 at 2:00 PM
On the eighth day of winter, Toontown gives to you:
The whitest winter ever,
Brand new holiday styles,
Twice the gag experience,
AND A MEGAAAAAA COG INVASION!
(bum bum bum...)
Blizzards full of snow,
Wacky winter carols,
Trees and lights o'plenty,
And a holiday packed with very merry news!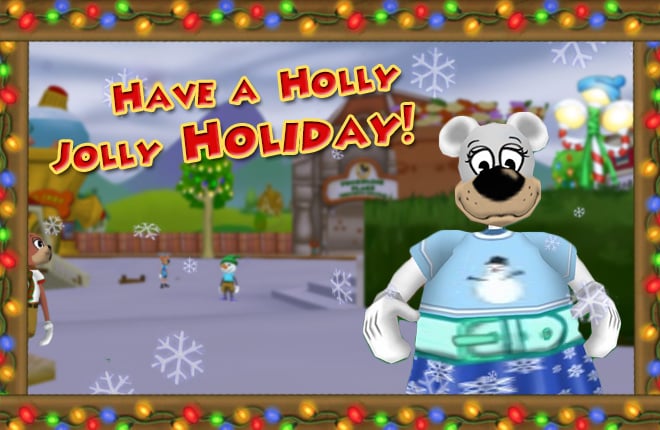 Have you looked out your window today? The snow has been starting to accumulate overnight... By the end of the day, I'd even predict that there will be a
perfect patch of it covering all of Toontown
! Professor Flake won't be happy, but don't pay attention to that grump. I love the winter weather!
My name is Paula, Paula Behr. I loved the winter weather so much, that I managed to get myself my own
white coat of fur
last year from Slappy Quackintosh himself. Of course... There were very few of us, and not many of us... Well, not many of us were able to stay the most cheerful during the Cog attack on election day.
I've been pretty lonely throughout the year, with all of my Polar Bear friends never being seen again after that dreaded Doomsday. I was one of the few who survived with Laff to spare. Slappy promised that he would be back every Christmas Eve to deliver Polar Bears to anyone in Toontown who wants to be one, but it's been ages since we saw him...
Hey, don't let me damper your Christmas cheer. There is plenty to be excited about! Get out there and build some snowmen, grab some accessories, and take a stroll through the
Winter Wonderland of Toontown!
While on your walk, don't forget to stop by and say "Howdy!" to me in my shop, Hibernation Vacations. The Brrrgh is crisply chilly this time of year!
December 22, 2014 [ttr-beta-v1.7.9]
Features:
• A blanket of snow has covered Toontown!

---
Comments
Sorry! Comments are closed.
---
---
---
---
---
---
---
---
---
---
---
---
---
---
---
---
---
---
---
---
---
---
---
---
---
---
---
---
---
---
---
---
---
---
---
---
---
---
---
---
---
---
---
---
---
---
---
---
---
---
---
---
---
---
---
---
---
---
---
---
---
---
Back To Top