More News
Don't be Wacky - Vote for Slappy!
Posted by Slappy on December 24, 2013 at 2:00 PM
Hello, hello, and hello to
you
too!
Not many of you know me, but I guarantee that you will after today. It would be nice for me to introduce myself for you to know me, so here is an introduction: I'm Slappy! I've lived in Toontown for a few years now, living in the Colorful Canvas district just past the outskirts of Donald's Dreamland. Whew, what an introduction!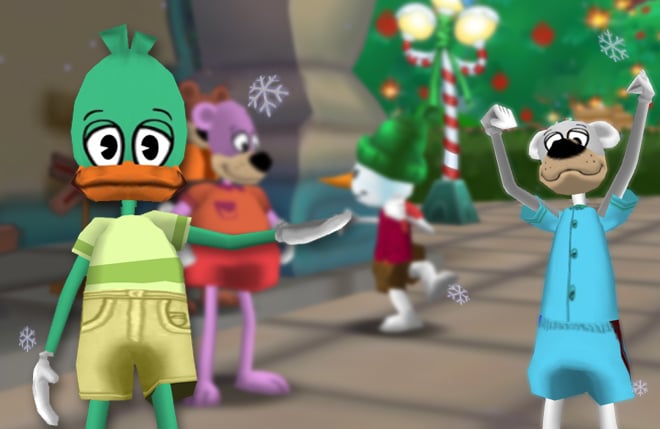 I bet you're wondering why I'm here. Of course you are, I'm wondering that myself! What
is
our purpose, anyway? What's the point of this cartoon? But no, not literally here in the Tooniverse. Just here on this blog post. I'll tell you why I'm here: Publicity! Lots and lots of publicity.
Why do I need this publicity? Aside from fame, fortune and glory- I'm needing some publicity for
the Election
. Surely, you have heard about the Toon Council Presidential elections coming up. Toontown is getting bigger and bigger, and we need to make sure that everything stays just toony enough. My good fellow Flippy and myself are running for the election, and hopefully the better one of us will be chosen. Whether that is him or myself,
I have no idea!
It might be me, though.
Anyhoo, down to the real reason I asked Sir Max to allow me to make this post today. I heard last month that Flippy has been allowing people to turn into Black Cats on Halloween, and I just can't see why. Black is a such boring color. You can't put any colors on top of black- which certainly isn't toony. Not toony at all.
I get it, they are pretty cool, and I'm not one to judge. Toons love them, and I'm perfectly okay with that. I'd just like to give you guys a better present, this Christmas Eve. For the next 48 hours, I'm going to be freezing my socks off (
Plot twist: I don't wear socks!
) in Toontown Central just for all of you.
For the first time in Toontown history, you can come see me and I'll turn you into a white Polar Bear.
Why white? White is my favorite color, because it is
any
color. The color of a canvas. You can put anything on white, creating from dark hollows to wondrous scenes of beautiful colors. White is with no doubt the most creative color. It's the base of all colors! Not black.
Thank you for reading, my dear toons! I wish you all a lovely Christmas Eve, and be sure to stop by and chat with me to turn into a Polar Bear. They won't be available for quite a while afterwards.
Remember:
Don't be wacky - Vote for Slappy!
December 24, 2013 [ttr-alpha-e732fa7]
Maintenance:
? Allow white toons
? Add more sanity checks to ensure that only cats and bears can have black and white colors, respectively.

Features:
? Polar Bears are allowed in Toontown for the very first time!
? Slappy, one of the candidates for the Toon Council Presidential Election, is standing next to Toon Hall for the next two days (Update time on December 26th) to turn any potential voters into Polar Bears! Just walk up to him and give him a cheerful greeting to get his attention.

---
Comments
Sorry! Comments are closed.
---
---
---
---
---
---
---
---
---
---
---
---
---
---
---
---
---
---
---
---
---
---
---
---
---
---
---
---
---
---
---
---
---
---
---
---
---
---
---
---
---
---
---
---
---
---
---
---
---
---
---
---
---
---
---
---
---
---
Back To Top