More News
Daily Alpha Update: Snowman Surprise
Posted by Sir Max on December 23, 2013 at 2:00 PM
Man, did I luck out yesterday. Not only did I get out of caroling, but apparently that last shopkeeper I was supposed to visit had this giant snowball trap set up. I've heard that a few toons went over and got pelted with snowman heads. Oof!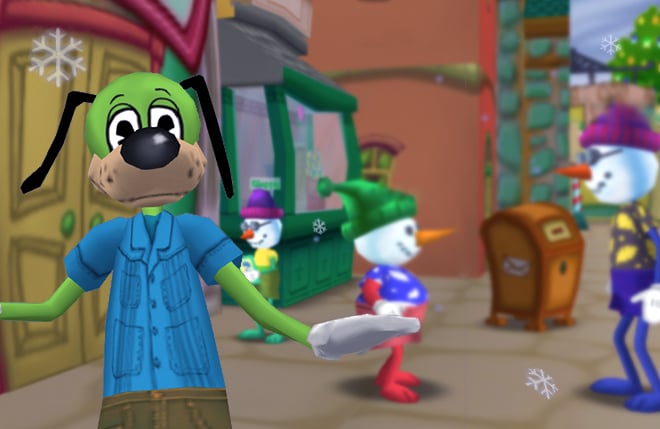 No worries, however. I have a plan. It's simple: We carol some more. I'm talking caroling by the masses. These shopkeepers are going to need
gallons
of figgy pudding. We're going to carol them dry, so much that they'll have to lock their doors and hide from the joyful cheers of our voices.
To help out, a few toons put together the list of clues from my Community Service paper to figure out which shops to go to. I still recommend trying to solve the puzzle for fun, but if you are stumped, the answers are right at the bottom of this post. Be careful out on the streets, though. The blizzard isn't letting up, and Toontown is covered in an entire blanket of ice and snow!
Oh, and one last thing: I know you toons may have been a bit disappointed because I was preparing for something big last week. Lucky for you, that big thing that I'm preparing for hasn't come out yet. Keep your socks on tight, because tomorrow we're going to be seeing something brand new!
Snowman Head Clues:
Each clue contains a hint to shopkeeper name, their store name, and their favorite carol that they want you to sing. Make sure that you do them in order! Hover over a box to view the answer if you get stumped, but you should try solving them first. No need to take the fun out of it!
1.
Joe's most popular after New Year, stop by the central and give him some good cheer.
Smokey Joe - Used Firecrackers
Loopy Lane, Toontown Central
"Lure good cheer the Toontown way! Happy Winter Holiday!"
2.
Not to be confused with Santa Paws, Fully Stop and sing merrily without laws.
Patty Pause - Full Stop Shop
Alto Avenue, Minnie's Melodyland
"Toontown's merry, come what may! Happy Winter Holiday!"
3.
The cold Nip is coming this way, don't take Naps in your sleigh.
Kathy Nip - Cat Nip and Cat Naps
Lullaby Lane, Donald's Dreamland
"Load some pies into your sleigh! Happy Winter Holiday!"
4.
Lars is a Tuft Guy no matter what they say, but his flowers need a bit of spray.
Lars Biceps - Tuft Guy Gym
Maple Street, Daisy Gardens
"Deck the halls with seltzer spray! Happy Winter Holiday!"
5.
Don't go too far across the Sea, Dinah needs help with her tree.
Dinah Down - Deep Sea Diner
Seaweed Street, Donald's Dock
"The trees are brighter than light of day! Happy Winter Holiday!"
6.
There are lots of snow Hazards on the road, Ski your way to lighten the load.
Harry the Hazard - Ski Shop
Walrus Way, The Brrrgh
"Snowman heads are hot today! Happy Winter Holiday!"
December 23, 2013 [ttr-alpha-g6f8fa8b]
Bugfixes:
? Fix a few issues with caroling.
? Make sure that toons keep their snowman heads upon logging out.
---
Comments
Sorry! Comments are closed.
---
---
---
---
---
---
---
---
---
---
---
---
Back To Top