More News
Daily Alpha Update: The Wrath of Lil' Oldman
Posted by Sir Max on December 26, 2013 at 2:00 PM
H-h-heyo, everybo-d-dy.
Shivers, and takes a sip of some Hot Chocolate
Aahh. Much better. As you can see, this are getting rough here. The snowstorm has turned into an all-out blizzard over the entirety of Toontown, and boy are we unprepared.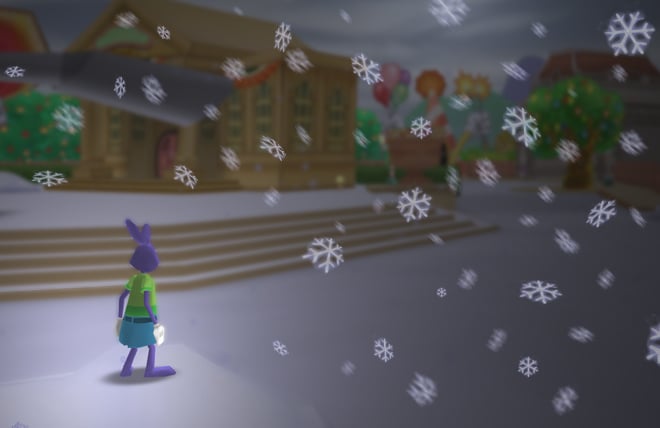 It's the day after Christmas, so we all went around taking the lights off of trees and putting them into a box to become tangled before returning them to the Brrrgh. It's just, there was one little thing that we didn't think of: All of the bulbs were burned out. It turns out that leaving 7,352 lights turned on for 5 days straight is pretty bad for the blub, and also bad for electric bill costs. Needless to say, the citizens of the Brrrgh aren't happy.
I went ahead and took it on myself to call a light company and order 7,352 for their heating system. Problem solved?
Not to them!
It's going to take a few days to deliver all of those bulbs, and not one of them are happy about it. I'm telling you, people just don't have the spirit of the season anymore.
I told Lil' Oldman about the dilema, since he is a pretty reasonable guy. I figured that he would call off the storm, we'd sit back and have a cup of Hot Chocolate, and all would be well. So I talked to him, and I've got some great news: He is in fact
not
calling the storm off, and making it
three times worse
! Toontown is completely covered in a white blanket of frozen ice with no shoes to protect us from the freezing cold.
Okay, so maybe the news wasn't so great. But by saying great news, it made it sound great, right? Right.
shivers
So, not only is the Brrrgh still frozen solid, but now all of Toontown is under a blizzard of humongous proportions, some calling it the second Ice Age. (And not even the movie!) But hey, I've got some Hot Cocoa! Can't beat that. Haha. Ha.
shivers
December 26, 2013 [ttr-alpha-g1af378d]
Maintenance:
? A couple new administrative tools
? Backend preparations for tomorrow's update

Features:
? Take down Christmas Lights and Tree
? Slappy packed up just in time to get out of the storm. He sends his thanks to all of the Polar Bears that came to see him!
? The snowstorm has turned into an all-out blizzard! Snow is falling harder than ever, and the ground of all areas is completely covered with it. Try to stay warm out there, toons!
---
Comments
Sorry! Comments are closed.
---
---
---
---
---
---
---
---
---
---
---
---
---
---
---
---
---
---
---
---
---
Back To Top