More News
Daily Alpha Update: A Beary White Christmas
Posted by Sir Max on December 25, 2013 at 2:00 PM
Ah, it's finally Christmas day. As Slappy introduced to us yesterday, it's a Beary White Christmas in more ways than one. I'm not talking about Barry White the singer, nor Barry White the ambassador to Norway. (Shoutout to Norway!) No, I'm talking about
Polar Bears
.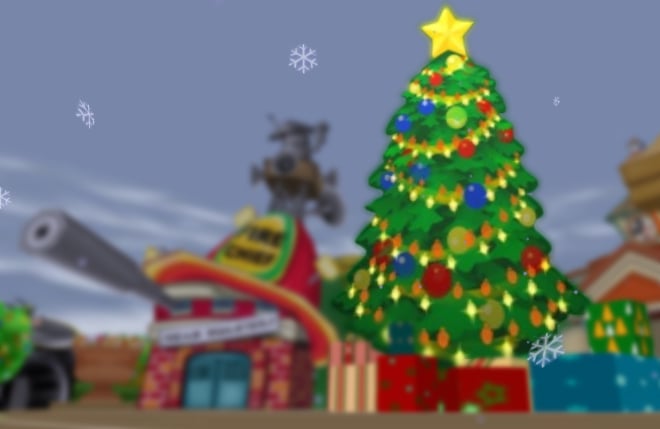 We know that you guys have been asking for white toons for quite a while now, even before Toontown Rewritten. Slappy certainly knew how to give the community a nice gift, though I'm sure that Flippy will be around soon enough to make up for it.
I hope that you have all had great days today, and before I sign off, us at Toontown Rewritten want to give you one last little present. I asked the community earlier today if there was anything I could do for an update (Originally, no update was planned.), and one of the biggest request was teleportation access.
After a bit of negotiating (and bribes!) with the Toon Council and Loony Labs, the current citizens of Toontown now have teleportation access to every playground using Loony Lab's new "
Portable Hole
" technology! The Toon Council is using this as a period to test the technology to see if it is safe for use in the everyday lives of Toons. The unlimited teleportation is only temporary for this testing period, but it is a great use nevertheless.
I hope that you and your families have had a
Beary
Merry Christmas. Don't forget to stop by and see Slappy to turn into a Polar Bear, because they won't be available for quite a while after tomorrow. Merry Christmas to you all!
December 25, 2013 [ttr-alpha-gdcebe6f]
Maintenance:
? Whitelist updates to add numbers up to 137

Tweaks:
? Undo a recent Disney update which allowed toons to see under the clouds of the map. It's better to explore!

Features:
? Alpha Testers now have teleportation access to every playground
(Including Acorn Acres!)
---
Comments
Sorry! Comments are closed.
---
---
---
---
---
---
---
---
---
---
---
---
---
---
---
---
---
---
---
---
---
---
---
---
---
---
---
---
---
---
Back To Top