More News
Estates are a BLAST!
Posted by McQuack on December 11, 2014 at 2:00 PM
Have you felt it?
Rumblings. Shaking. Faint sounds of explosions in the distance. I don't know if you've felt it, but I have. There's something coming. A monstrous, dreadful mechanism with enough power to blow the feathers off my face. Weapons so powerful, they could only be known as...
...Cannons.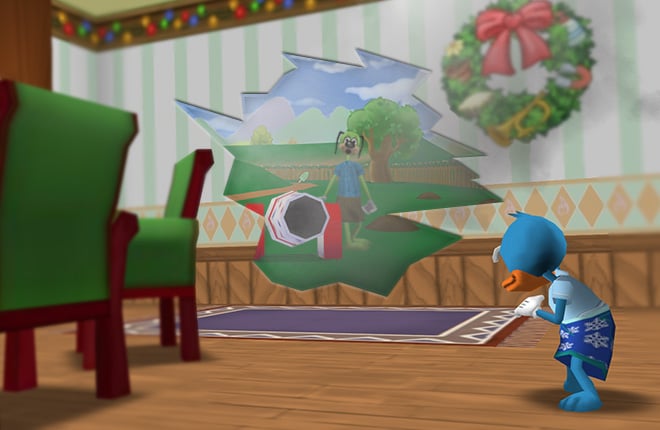 So, hey there! I've been absent for quite a while from the blog, leaving things to Sir Max to run for the most part. It's not that I don't love posting here, but things
always seem
to go out
with a "BANG"
when I'm around. I don't know if it's bad luck, something with the planetary alignment, or just cleverly written comedic relief -- but explosions love me. The feeling isn't exactly mutual.
Understandably, you can see why I'm not too excited about the rental
48 Hours of Cannons
that is now available for purchase in the Cattlelog, nor the corresponding brand-new
48 Hours of Game Tables
that us Toon Troopers had to build. But --
BLAM
-- as you can see, Toons have already started buying them and shooting --
KA-BOOM
-- themselves off into the sky, willy-nilly. It's just indecent!
Luckily, I've boarded up my doors and locked myself inside until this all blows over. The Toon Council is bound to see how unsafe these things are for little ducks like me soon enough... Right?
Hang on, I hear something outside. I'll be righ-- Oh, not again.
KA-BLAAAMM!
December 11, 2014 [ttr-beta-v1.7.2]
Maintenance:
• Flowers and Trees now grow at 12AM Toontown Time, rather than 10PM Toontown Time.

Bugfixes:
• Fix an occasional district reset with gardening when earning a Laff boost. We'll restore that Laff point for those who lost it in a later update!
• Fix a bug where some item codes were falsely expired.
• Fix a district reset relating to gardening growth time.
• Potentially fix a bug where the angry animation could be spammed heard very loud and repeatedly.

Tweaks:
• Selling Flowers now gives you twice as many beans as it took to plant them. Enjoy the bonus!

Features:
• Implement rental items.
• Add 48 Hours of Cannons to the Cattlelog.
• Add a brand-new item: 48 Hours of Game Tables!

---
Comments
Sorry! Comments are closed.
---
---
---
---
---
---
---
---
---
---
---
---
---
---
---
---
---
---
---
---
---
---
---
---
---
---
---
---
---
---
---
---
---
---
---
---
---
---
---
---
---
---
---
---
---
---
---
---
---
---
---
---
Back To Top