More News
Flip for Flippy: Out with a Bang
Posted by Flippy on March 17, 2014 at 2:00 PM
The polls are closed, votes are being counted, and the Troopers are finishing up the election one final time. Does that mean that the Cream Pie Campaign is over, though? Of course not!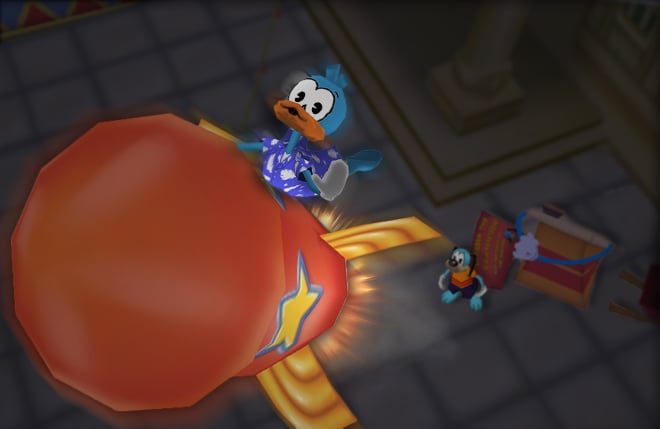 As you toons know, the silliest way to go out is to go out of something is to go out with a bang. The voting period may be over, but that doesn't mean that we can't keep having some more fun until the election! I was digging around my house for what I could do to keep you toons feeling toontastic, and you'll never guess what I found:
Six tons of fireworks!
Yep, turns out that I had boxes full of leftover Fireworks from our New Years celebration. It's the perfect way to end with a bang! I got clearance from Slappy that they wouldn't be in the way of his balloon, and he even told me to let you guys know that you're free to ride with him during the show.
That isn't the best part, though. When I launched that first firework earlier, it went haywire. The mischievous missile went soaring through the playground and sped right past my stand and towards McQuack, who was working on something for Alec. It picked him up and flung him into the air with it just before exploding. Boy, was that a sight! You may be asking what's so good about that. It may not have been too great for McQuack, but the silliness from the incident was enough to bring my stand to life!
We've had a lot of false alarms from the labs seeing the stands coming to life for a split second and then going static again, as some of you toons may have witnessed, but this is no red herring. The stand is bouncing around and having a good time, as if the silliness completely animated it! I don't know the pure science about it, but Surlee has been studying it very carefully. He started talking about getting some sort of Silly Meter that he's been working on built into Toon Hall. If I'm elected, he's definitely got an O.K. from me on that. The more silliness, the better!
Before I take off to go get the next firework show prepared, it's time for two of the final Alpha Toons to join us:
Z.Z. Zillerzapper
and
Googledoodle
! They certainly couldn't have come on a better day with all of the updates going around here.
That's about it for my post, and sorry for such a long one! I needed to cram in as much as I could before the election. I'll see you Toons in Toontown Central, or on the Election Livestream!
March 17, 2014 [ttr-alpha-g7347e0a]
Maintenance:
• Whitelist update
• Code cleanup in preparation for the Election

Features:
• Flippy found some leftover fireworks in his estate, and has decided to end the election with a bang! They'll be airing in every playground every hour.
• The silliness from these rockets was enough to animate Flippy's campaign stand! Stop by and grab some pies and give it a high five!

---
Comments
Sorry! Comments are closed.
---
---
---
---
---
---
---
---
---
---
---
---
---
---
---
---
---
---
---
---
---
---
---
Back To Top