More News
Don't be Wacky: A Very Merry Unbirthday
Posted by Slappy on March 19, 2014 at 2:00 PM
Time's up on voting, and I know Alec is working his gloves off counting those ballots and finishing up all of the new games for the election, but that doesn't mean that we have to stop having fun in the meantime. I know that Flippy thought that you guys were disappointed over the delay, but I know better than him. We aren't disappointed at all, because the fun was just beginning!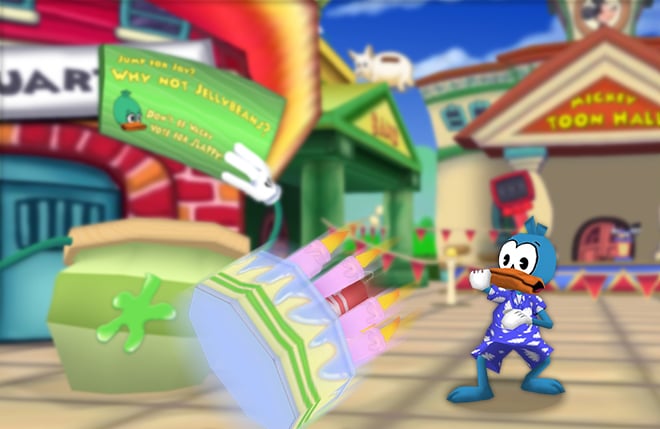 This extra day gives me time to prepare a boatload of new fun things to spend our time on, starting with our next two crazy key winners:
Thorongil
and
Mister Master
. There's only two spots left to get into our toony town before the election, so you rabbits better start rubbing your lucky paws. If you aren't a rabbit: I suggest a species change! Or an occupation as a leprechaun.
Lucky for you, I know just the place where you can get some green to start your new occupation:
Everywhere!
You might want to sit down for this story, it's quite the tale.
I was out in Toontown Central earlier doing my daily balloon inspection when I came across something I hadn't noticed before: The Birthday Cake that powered my balloon wasn't a Birthday Cake at all. It turned out to be an
UN-Birthday Cake
. Everyone toon enjoys a great Unbirthday Celebration -- in fact it happens 364 days of the year for everyone! The problem is that Unbirthday Cakes happen to have a firework lodged in with the candles, which is a huge no-no for Hot Air Balloons.
I quickly caught the cake and tossed it in a random direction, needing to get rid of it before that fuse burst. Boy, this is the fun part. McQuack was hobbling away from the bandage station from his last incident with Flippy when the Unbirthday Cake hit him head on and launched him back into the sky!
The explosion blew the cake to bits, spreading a bunch of green goop all over my campaign sign. Was I mad about it? Of course not! I may have been a bit of a mean green, but only because of the green icing that splashed all over me and my
newly animated stand
! It seems that catastrophe was enough to bounce my stand into action. I don't know what it is about these stands, but they sure do seem to love Mild Cartoon Violence.
If you're needing some luck or looking for an occupation as a Leprechaun, be sure to stop by my stand and pick up some green goop for yourself. St. Patrick's day may be over already, but that doesn't mean that we can't show off the color of everyone's favorite duck. And hey, don't forget to share some Jellybeans from the Jar either. There's still plenty to go around!
With that I'll bid you ado, and I wish a Very, Merry, Unbirthday to You! (Except
you
, who's actual birthday is today. Happy Birthday! Did you get us an Unbirthday Cake?)
March 18, 2014 [ttr-alpha-gebe43f9]
Tweaks:
• Smoothed the sailing of Slappy's Balloon

Features:
• Those stands either really love cake, or really love watching McQuack blow up. Slappy's stand has sucked in some silliness and sprang to life!
• The green goop from the cake's icing got all over Slappy's stand, but luckily it cleaned itself up and put the goop into a jar for any toons who'd like to go green for a day.

---
Comments
Sorry! Comments are closed.
---
---
---
---
---
---
---
---
---
---
---
---
---
---
---
---
---
---
---
---
---
---
---
---
---
---
---
---
---
---
---
---
---
---
---
Back To Top