More News
The Thankful Thanksgiving Sale
Posted by Sir Max on November 28, 2014 at 12:00 AM
Ah, the evening of Thanksgiving Day. As the plates of buttered toast, popcorn, and jellybeans are cleared; while relatives are bid "Farewell 'til the Holidays!"; it's times like this where you want to curl up by the fire, sit back, and...
GO SHOPPING!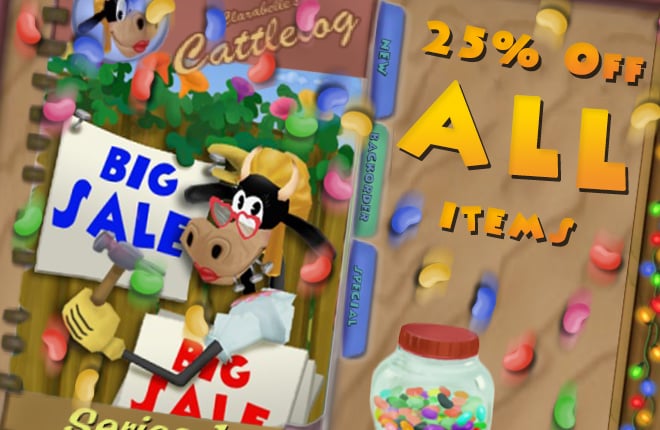 We're thankful for
a lot of things
here at Toontown. As always, we want to give a huge thanks to the folks at Disney Online who originally ran Toontown before our fan revival started, all of the people who have helped us out over the past year such as
Bloomberg News
for their awesome interview, and most of all:
YOU!
As a thanks to you Toons for helping us out around town and making Toontown what it is today, Clarabelle Cow has started the first ever
Annual Cattlelog Sale
in the spirit of Black Friday shopping, starting
right now
at midnight Toontown Time!
Don't have your next Cattlelog Issue yet? No problem. As long as you pick up your Cattlelog before
December 4 at 11:59PM Toontown Time
, you'll get a special issue with a week-long sale of 25% off every item.
Happy shopping, and while you're out there -- don't forget to say "Thanks!"
November 23, 2014 [ttr-beta-v1.6.10]
Maintenance:
• Clean up old Holidays on the calendar.

Bugfixes:
• Fix a District Reset related to invasions.

November 25, 2014 [ttr-beta-v1.6.11]
Bugfixes:
• Fix a typo in the Checkers game.
• Fix uncooperative treasures in the CFO.
• Fix a crash caused when non-ASCII characters were entered into the chat.
• Fix NPC nametags not always showing up.
• Fix a major bug where teleportation to a friend on a street would often fail.

November 26, 2014 [ttr-beta-v1.6.12]
Features:
• Enable Doctor Surlee's "Toon-Rewritinfo" debug, courtesy of The Two.

November 27, 2014 [ttr-beta-v1.6.13]
Maintenance:
• Automate the process of restoring deleted Toons.

Bugfixes:
• Reduce the frequency of crashing when entering buildings. (We're working on a bigger fix!)

Features:
• Clarabelle will be offering a special Black Friday promotion until next Friday!

---
Comments
Sorry! Comments are closed.
---
---
---
---
---
---
---
---
---
---
---
---
---
---
---
---
---
---
---
---
---
---
---
---
---
---
---
---
---
---
---
---
---
---
---
---
---
---
---
---
---
---
---
---
---
---
---
---
---
---
---
---
---
---
---
---
---
---
---
---
---
---
---
---
---
---
---
---
---
---
---
Back To Top