More News
Daily Alpha Update: An Unexpected "Thank-you!"
Posted by Sir Max on November 28, 2013 at 2:00 PM
Ah, Thanksgiving. Or, as some of you international toons may call it: "Thursday."
Thanksgiving is a pretty great holiday. We can all gather around the Picnic Tables in Acorn Acres, spend some time with our family, and best of all: the food! No one can pass up on the traditional buttered toast, popcorn, and jellybeans.
Mmmm.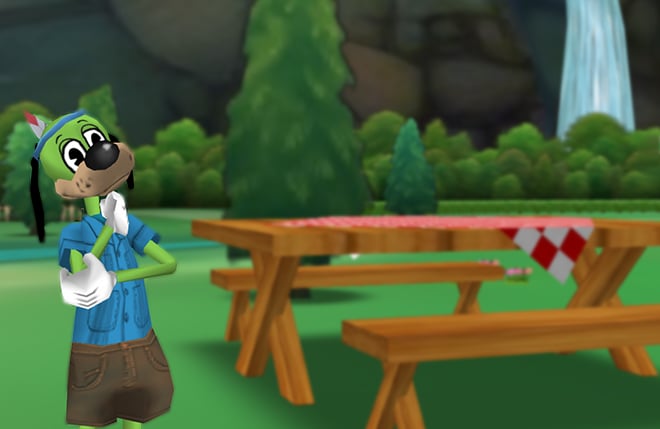 I don't want to talk to much about the update today, because there isn't much to talk about. Updates are starting to get smaller as we are closer to finishing up the Alpha testing, but that isn't the reason I'm not talking about it. Let's talk about Disney.
We all know that the community likes to pick on Disney, calling them greedy and "cogs" for closing Toontown. As much as I would love to take on the role as the savior of toons (And it would be a fitting role too, mind you.), that simply isn't the case.
It's absolutely wonderful that everyone is loving Toontown Rewritten, but please don't think of us as a Toontown replacement, nor that we are better than Disney. Disney did what they had to do as a company. Toontown needed work, and they didn't think that it was worth their money to improve it. They rather invest in something else, which is what companies do. They may not have done it in the best way, but they did what they had to.
There's also the efforts of
Jesse Schell
, who thought of the idea of Toontown, and also trying very hard to convince Disney to bring Toontown back. I don't know if he will ever succeed, but he certainly won't if no one follows his
advice
. Many people gave up on that advice when Toontown Rewritten was announced, but we shouldn't. I would take a new Toontown from Disney over Toontown Rewritten any day. We are only trying to properly finish what Disney started 10 years ago.
The point is, if you are thankful for anything about Toontown- be thankful for Disney, Jesse Schell, and the rest of VR Studio who created this toontastic game. I know that I am, as well as I'm thankful for all of you who have been supporting us so far. I just wanted to take this day to take our minds off of TTR for a little bit and think about all of those great years we had with the original Toontown.
Happy Thanksgiving- or Thursday- from all of us in the Toon Council!
November 28, 2013 [ttr-alpha-ge5d410a]
Maintenance:
? More changes for upcoming event

Bugfixes:
? Actually fix banana peel crash (I hope!)
? Tickets now display the correct amount on the winnings panel

Features:
? Give everyone a Thanksgiving-themed Hat
---
Comments
Sorry! Comments are closed.
---
---
---
---
---
---
---
---
---
---
---
---
---
---
---
---
---
---
---
---
---
---
---
---
---
---
---
---
---
---
---
---
---
---
---
---
---
---
---
---
---
---
---
---
---
---
---
---
---
---
---
---
---
---
---
---
---
---
Back To Top