More News
Daily Alpha Update: Reeling in the Gold
Posted by Sir Max on November 29, 2013 at 2:00 PM
All I hear nowadays are people talking about investing in Marshmallows, Jawbreakers, or for the really crazy toons- paper. No, seriously.
Paper
money. Why on earth would anyone use that?
People are saying that the Jellybean economy is going to collapse sometime soon, so I decided to start looking into a new investment: Fish.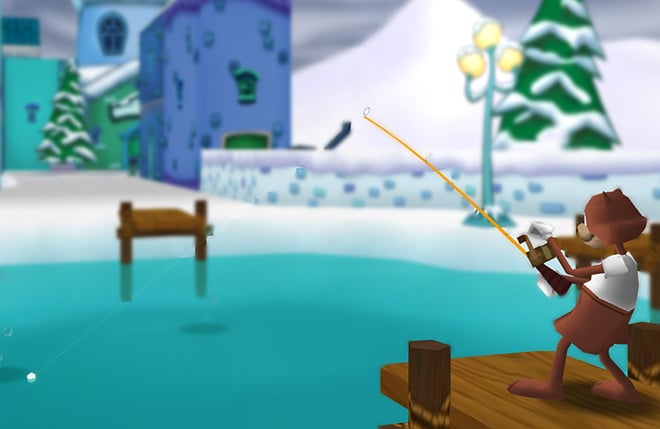 I was talking to Hawkheart a few days ago, apparently he has this fancy job as a Fish Bingo operator or something. I don't know what that's all about. So anyway, he started talking to me about how the Pet Shops are starting to get really interested in fish. Some toons have caught new, rare species never seen before. With these fish we could develop even wackier things to spruce up the construction of our town.
For that reason, fish sales are going sky high. I had a brilliant idea: Why not put a pond in
every
playground? For "
science
"!
Hawkheart agreed to the idea, so we went ahead and installed a pond into every playground for your fishing needs. I even installed a pond in that big hole in The Brrrgh where we borrowed that Ice Rink. You're welcome, Brrrgh! Fisherman Freddy got a few of his buddies to collect fish at the ponds- but really, I wouldn't bother them. They're really busy. Instead, whenever you get some fish, just bring them down to me and I will take care of them for you. For "
science
"! Definitely not reaping the reward for myself.
Oh, and one last thing: To help you catch even more fish, I went ahead and replaced everyone's rod with this shiny golden rock that I found. There was absolutely tons of it, and I doubt any of it would be worth a single Jellybean. I mean seriously, who would pay money for gold?
November 29, 2013 [ttr-alpha-g99f2265]
Maintenance:
? Improvements to the new loading system
? Cleanup a few administrative features
? Major rework to fishing to allow more flexibility and less messy coding

Features:
? Remove Thanksgiving Hats
? Boost everyone's Jellybean Jar to 250 beans.
? Switch out rods to this worthless "gold" stuff.
? Ponds are now available all over Toontown! Both Playgrounds and Streets have a dock and Fisherman available.

---
Comments
Sorry! Comments are closed.
---
---
---
---
---
---
---
---
---
---
---
---
---
---
---
---
---
---
---
---
---
---
---
---
---
---
---
---
---
---
---
---
---
---
---
Back To Top