More News
Gardening is a GO!
Posted by Professor Ivy on December 6, 2014 at 2:30 PM
Ah, the search of adventure. I remember it well. As a Toon, I'm sure you too are always seeking for adventure. Luckily, you'll need to look no further than the great
outdoors!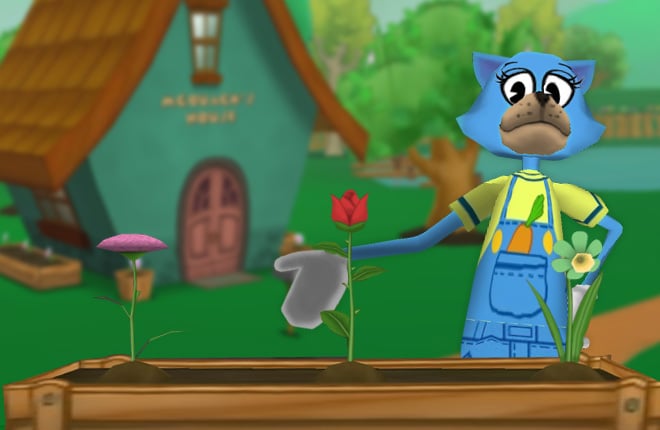 My name is Professor Ivy, the gardener down in Daisy Gardens. Don't give me that look; did you think these flowers tended to themselves? Ah, but no bother, it's one of my favorite things to do. I too searched for adventure in my early days as a Toon, and I tried everything! Fishing, racing, trolley games, video games
(Pfft, who would waste their time on a boring ol' video game?)
-- it just couldn't cut it!
At long last, though, I finally found my calling -- and now you can too! I've teamed up with Clarabelle Cow to start offering exclusive Gardening Kits in the Cattlelog to get you started growing just like I do! "Where are the seeds", you're wondering? Well, I'll give you a Top-Secret Toon Tip:
They're jellybeans
!
What are you waiting for? Toontown's newest expansion is calling you, and all you need is a Gardening Kit and a couple of beans to start. Don't forget about the Gag Trees, either... But that's a tip for another day!
Now get outdoors, and lettuce start gardening!
December 6, 2014 [ttr-beta-v1.7.0]
Maintenance:
• Major Update! Rewrite the server-sided friends system for fixes and improved performance.
• Rewrite zone loading to be cleaner.
• Add new words to the whitelist. Tell us your suggestions!
• Add support for non-ToonFest code redemption.

Bugfixes:
• Fix an issue where friend lists would occasionally appear empty, or with some friends missing.
• Fix "The" being repeated twice in Invasion messages.
• Fix a district reset relating to winter Cattlelog Items.
• Wallpapers and floors can now be properly customized.
• Fix a crash on streets related to using certain gags.
• Fix a crash in Cog areas when hitting "F2".
• Toons now receive a whisper when a building they have rescued is taken over by the Cogs again.
• Fix a crash when entering an area with cog battles in progress.

Features:
• Gardening Kits can now be purchased from the Cattlelog.
• Implement organic gags.
• Implement statue decorations.

December 6, 2014 [ttr-beta-v1.7.1]
Maintenance:
• Improve server-side maintenance and caching of Gardens to reduce district load.

Bugfixes:
• Fix a bug relating to Gardening trophies.
• Fix a bug where loading would hang for far too long during teleportation.

PS - Since you bothered to read down this far, for one week only, you can get the gardening kit for
FREE
by entering the code
"gardening-is-go"
in your Shtickerbook!
---
Comments
Sorry! Comments are closed.
---
---
---
---
---
---
---
---
---
---
---
---
---
---
---
---
---
---
---
---
---
---
---
---
---
---
---
---
---
---
---
---
---
---
---
---
---
---
---
---
---
---
---
---
---
---
---
---
---
---
---
---
---
---
---
---
---
---
---
---
---
---
---
---
---
---
---
---
---
---
---
---
---
---
---
---
---
---
---
---
---
---
---
---
---
---
---
---
---
---
---
---
---
---
---
---
---
---
---
---
---
---
---
---
---
---
---
---
---
---
---
---
---
---
---
---
---
---
---
---
---
---
---
---
---
---
---
---
---
---
---
---
---
---
---
---
---
---
---
---
---
---
---
---
---
---
---
---
---
---
---
---
---
---
---
---
---
---
---
---
---
---
---
---
---
---
---
---
---
---
---
---
---
---
---
---
---
---
---
---
---
---
---
Back To Top