More News
An "Ice" Time at the Brrrgh
Posted by Professor Flake on December 2, 2014 at 2:00 PM
G-G-Greetings!
Professor Flake, here once again for
the first time in a while
.
In case you were wondering, we (Don't be mistaken -- it's still just me) finally got a building set up for the Precipitation Foundation right on Polar Place, and I've been studying the weather there ever since. Eh, I've studied the occasional Lawbot too, but they're boring.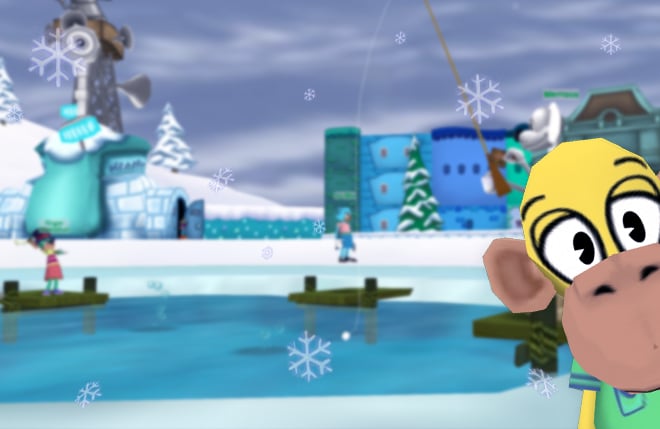 Things have been getting chilly here in the Brrrgh. It's f-f-freezing, and more than usual. You see, ever since Doctor Surlee's Super-Duper Air Conditioner went crazy, it has been snowing every d-d-day for years. It'd be great to turn it off every now and then, but no one can find the blasted thing under all of this snow!
My colleague at Loony Labs responsible for the forever-winter wonderland around us, Doctor Surlee, told me today that it has been helping with the silly levels that the
S.I.L.L.I. Team
(Scientists Interested in Laugh Levels Increasing) have been tracking. Whether or not they're helping with the silliness, however, I want to get to the bottom of this pile of snow so we can keep this machine from freezing my research!
Mark my words, one of these days we're going to regret letting that thing create an eternal blizzard. Who knows what catastrophe it could cause over this upcoming Winter season.
As always, I'll be up to my research. Feel free to stop by Toon HQ for an opening -- my Junior Research Scientists all seem to quit as soon as they get their hands on these Lawbot Suit Parts I've been collecting.
Keep in t-t-touch, Toons!
---
Comments
Sorry! Comments are closed.
---
---
---
---
---
---
---
---
---
---
---
---
---
---
---
---
---
---
---
---
---
---
---
---
---
---
---
---
---
---
---
---
---
---
---
---
---
---
---
---
---
---
---
---
---
---
---
---
---
---
---
---
---
---
---
---
---
---
---
---
---
---
---
---
---
---
---
---
---
---
---
---
---
---
Back To Top