More News
The New Years Top Toons Marathon is ON!
Posted by Sir Max on January 1, 2015 at 2:00 PM
It's on. It's even
on-er
than on. I've got my gloves on, pies ready. gags restocked, and poker face tuned to a perfection that some may even call an art form. Toons, it looks like we're about to hop on to an all-out
New Years Top Toons Marathon
.
...Oh, Happy New Year too and all that jazz too. But that's probably not important right now.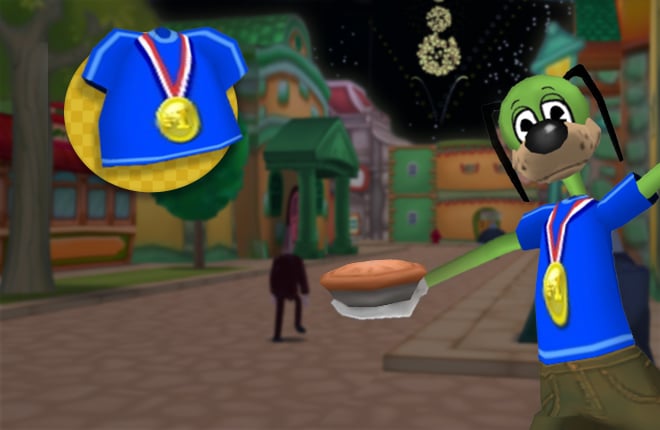 When the Toon Council told me that we'd be hosting the first ever Top Toons Marathon in celebration of the New Year, I jumped right on to training as soon as I could. I didn't even have time to get a new
word of the day calendar
this year, but I did grab myself a shirt already from the supplies! Here's the rundown of how it works:
For the next three days,
January 1st to the 3rd
, we'll be testing out the Toon HQ's new Top Toons system by tracking Toons who defeat the
most Cogs
, and Toons who defeat the
most Cog Building floors
every 24 hours. The top 10 of each category will be receiving a one-of-a-kind
gold medal shirt
, along with their name and amount defeated announced on the blog to show just how TOON Enough they are!
You may be asking: "If there's nothing more than the shirt, why would you be trying to win the marathon since you already have one?" Let me tell you, there's more to life than clothing. Just imagine the
glory
of having the name
"Sir Max"
mentioned in a blog post. It would be a dream come true to see the name
"Sir Max"
written by none other than Sir Max himself! I'm getting butterflies just thinking about it.
Winners will be announced at
2PM Toontown Time on Sunday, January 4th
, however only Top Toons up until January 3rd will be counted. I'll see you on the streets, Toons -- let's get out there and bust some Cogs!
---
Comments
Sorry! Comments are closed.
---
---
---
---
---
---
---
---
---
---
---
---
---
---
---
---
---
---
---
---
---
---
---
---
---
---
---
---
---
---
---
---
---
---
---
---
---
---
---
---
---
---
---
---
---
---
---
---
---
---
---
---
---
---
---
---
---
---
---
---
---
---
---
---
---
---
---
---
---
---
---
---
---
---
---
---
---
---
---
---
---
---
---
---
---
Back To Top