More News
Let the Firework Rumpus Start
Posted by McQuack on December 30, 2014 at 3:20 PM
Well, it seems that winter is over. At least, the only part of winter that
matters
. Snow has melted, the decorations have been cleaned, and in just a few hours we'll be partying into the
worst
part of winter that most certainly shouldn't matter...
New Years Eve.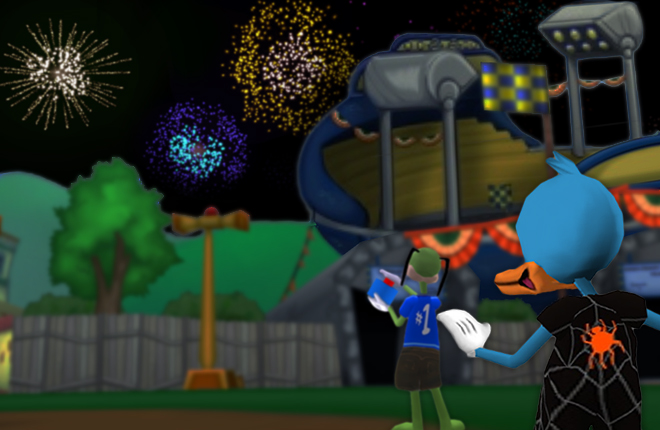 Don't get me wrong, the festivities and food are on point. It's silliness at it's finest, but there is a part of New Years Eve that I dread every year. Just 20 minutes ago I found myself being dragged off to a "celebration" over at Goofy Speedway by Sir Max. There was a bit of a big problem upon arriving, though:
There wasn't anyone there.
I asked Sir Max what was up, and before I could run I suddenly realized what was happening. He took out his button and activated the fireworks, shooting up gleaming, beautiful bursts of color into the newly-lit night sky. The colors, shapes, and sounds were magnificent as the fireworks boomed across the stars.
...And it was perhaps the most horrifying event I have ever encountered. "A late Christmas present," he says! "To make up for your fear of explosions," he says! He's just lucky none of them hit me this time. If I see one more set of fireworks, I tell you...
Every hour? Until January 2nd?
Well, if you need me, I'll be nowhere. Because if I say where, my house is going to explode.
Again.
December 30, 2014 [ttr-beta-v1.7.12]
Bugfixes:
• Fixed an issue with the incorrect throw type being used in boss battles after using a special throw item.
• Fix an issue with gardening causing server instability.
• Fix a glitch where Toons could set their name to nothing.

Tweaks:
• Special throw items (Pies, snowballs) can no longer be carried into boss battles. You'll blow our cover!

Features:
• The Winter Holiday is over for this year. We hope we made your holiday a little more cheerful!
• New Years festivities have begun! Fireworks will go off in every playground every hour until 11:59PM Toontown Time on January 2nd.

---
Comments
Sorry! Comments are closed.
---
---
---
---
---
---
---
---
---
---
---
---
---
---
---
---
---
---
---
---
---
---
---
---
---
---
---
---
---
---
Back To Top