More News
Santa Toon's Coming Tonight!
Posted by Doctor Surlee on December 24, 2014 at 2:00 PM
On the tenth day of winter, Toontown gives to you:
Surlee's lost package?,
Fancy furniture items,
The whitest winter ever,
Brand new holiday styles,
Twice the gag experience,
AND A MEGAAAAAA COG INVASION!
(bum bum bum...)
Blizzards full of snow,
Wacky winter carols,
Trees and lights o'plenty,
And a holiday packed with very merry news!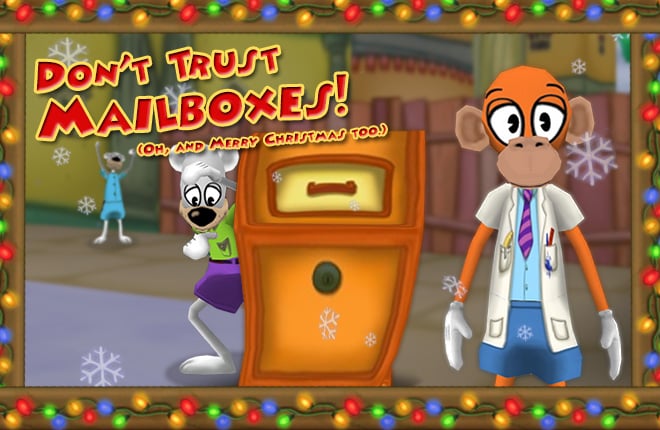 Hello, and Merry Christmas Eve. They asked me to come in today to take care of today's tenth day of winter, by popular demand. I can't say I'm the most festive, though I certainly would have brought a gift if not for these trashy mailboxes.
Yes, I'm talking to you. Gah!
Mailboxes. I swear to you, you can't trust them. Irrational? Perhaps. It's no mere coincidence, however, that my package for the tenth day of winter just happened to be arriving today, yet it's nowhere to be found. Just look at his smug metal little face. He's plotting something. I just know he is.
No matter, the festivities must go on. If you'd like, I'll be on Toontorial Street looking for my package. I'm always up for a nice little chat.
Remember to be nice: Christmas is tomorrow!
December 24, 2014 [ttr-beta-v1.7.10]
Bugfixes:
• Clothing, furniture, and accessories are no longer deleted from the mailbox if your closet/attic/trunk is full.

Features:
• Further implement 12 days of winter events. Have you noticed the sudden spike in Polar Bears lately? I wonder what Doctor Surlee is up to on Toontorial Street...

---
Comments
Sorry! Comments are closed.
---
---
---
---
---
---
---
---
---
---
---
---
---
---
---
---
---
---
---
---
---
---
---
---
---
---
---
---
---
---
---
---
---
---
---
---
---
---
---
---
---
---
---
---
---
---
---
---
---
---
---
---
---
---
---
---
---
---
---
---
---
---
---
---
---
---
---
---
---
---
---
---
Back To Top