More News
We Wish You a Toontastic Christmas!
Posted by Flippy on December 25, 2014 at 2:15 PM
On the eleventh day of winter, Toontown gives to you:
Cheerful Christmas costumes,
Surlee's lost package?,
Fancy furniture items,
The whitest winter ever,
Brand new holiday styles,
Twice the gag experience,
AND A MEGAAAAAA COG INVASION!
(bum bum bum...)
Blizzards full of snow,
Wacky winter carols,
Trees and lights o'plenty,
And a holiday packed with very merry news!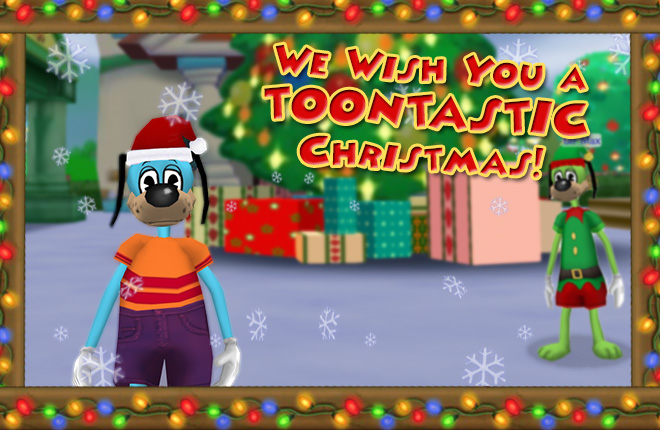 I hope you're having a Very Merry Christmas, Toons! Santa left all sorts of goodies in my stocking, as I hope he did for you too. Word on the street is that all those Cogs got was a cup of oil and some coal -- maybe it'll straighten them up for next year.
(Although I wouldn't bet my Jellybeans on it!)
Although Christmas has always been more so Slappy's swing, in his... Absence... I wanted to try to make this Christmas just as great as he would have. I was making my rounds to the Toontorial today and even happened to notice from behind the fence that Doctor Surlee is allowing new bear Toons to become
Polar Bears!
He'll be leaving tonight at midnight, so don't miss out on the chance.
Hold on just a lickity split second, though. There's still something left at the bottom of the tree... It's...
It's...
New holiday clothing!
There is even an accessory paired with it!
Enter the code "
coming-to-town
" in your Shticker Book for an exclusive Santa outfit, or "
on-the-shelf
to dress yourself up like a little elf! All codes from the 12 Days of Winter expire right when it ends tomorrow at midnight, however, so grab your free costumes soon!
Now, we've got decorations, snow, new items, new accessories, new clothing, and an overall BLAST of a time, but we're still missing something to make this Christmas just as great as Slappy's... Well, besides Slappy of course.
Stay
TOONed
tomorrow for the last day of the 12 Days of Winter, and our most fun holiday update yet. All of us on the Toon Council hope that you and your family have a great time over the remainder of Christmas!
---
Comments
Sorry! Comments are closed.
---
---
---
---
---
---
---
---
---
---
---
---
---
---
---
---
---
---
---
---
---
---
---
---
---
---
---
---
---
---
---
---
---
---
---
---
---
---
---
---
---
---
---
---
---
---
---
---
---
---
---
---
---
---
---
---
---
---
---
---
---
---
---
---
---
---
---
---
Back To Top