More News
Daily Alpha Update: A New... Title!
Posted by Sir Max on January 1, 2014 at 2:00 PM
BEEP BEEP BEEP BEEP
gahh.. Wh-what time is it?
2:00? Already?! Oh man, I need to do the blog post! Where's the update? Someone give me the update!
...No update?
You all were sleeping too?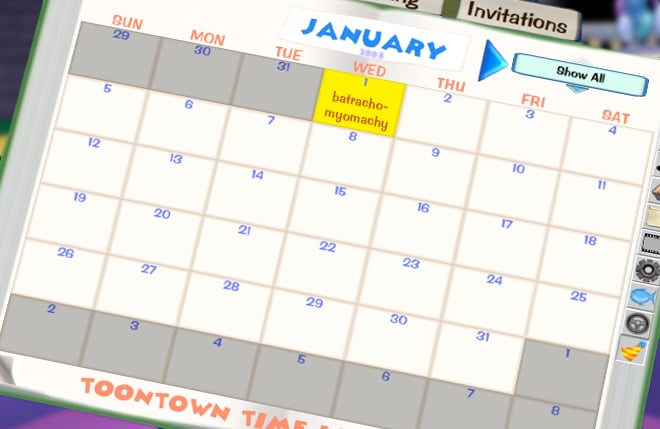 Err, uh, heya everyone. So it turns out that we all stayed up a bit too late and slept in by a couple of hours. Like, 6 hours. But hey, It's a New Year! With
Toontown opening its doors to the public this year
, we have a ton in store. It's time for a bit of a change, however!
I was doing some reading on past posts when I noticed that I've used "New Year" in the title three times in three days. So there's one thing that needs to change. Done. Next thing that needs to change: These posts are getting to stale. I mean, don't get me wrong -- I know that my posts are a literary perfection, but they're getting a bit too stale, you know?
Of course, I've already found a solution: For the new year, I bought a word of the day calendar! It only cost me a few jellybeans. Now, let's get this new year started! Today's word of the day is... Batr-a.. errr... "
Batrachomyomachy
". Yes. "
Batrachomyomachy - to make a mountain out of a molehill.
" That's greek, you know.
I hope that you don't have any
batrachomyomachy
towards us for lacking an update today, or become famous for your
batrachomyomachy
for complaining about not having an update, becoming a
batrachomyomachimous
toon.
Batrachomyomachy.
Boy oh boy, This post is already rejuvenated!
Batrachomyomachy
!
We're all pumped for this new year on the council. We've accomplished more this past year than we have the entire 5 years of Toontown construction, and I bet that we're going to double that this year. From the Toon Council Elections to the public opening of Toontown, along with the
batrachomyomachy
of my word of the day calendar, this year will be tooniest year of all!
---
Comments
Sorry! Comments are closed.
---
---
---
---
---
---
---
---
---
---
---
---
---
---
---
---
---
---
---
---
---
---
---
---
---
---
---
---
---
---
---
---
---
---
---
---
---
---
---
---
---
---
---
---
---
---
---
---
---
---
---
---
---
---
---
---
---
---
---
---
---
---
---
---
---
---
---
---
---
Back To Top