More News
Daily Alpha Update: Tammy's Tailoring
Posted by Sir Max on January 2, 2014 at 2:00 PM
Flock- err... auc-in...
Floccinaucinihilipilification
! Aha.
The action or habit of estimating something as worthless.
Sorry, I was just a little busy checking out my word of the day calendar. You can
feel
the excitement just by saying the word! None of you shall ever
floccinaucinihilipilificate
one of my posts again at this rate.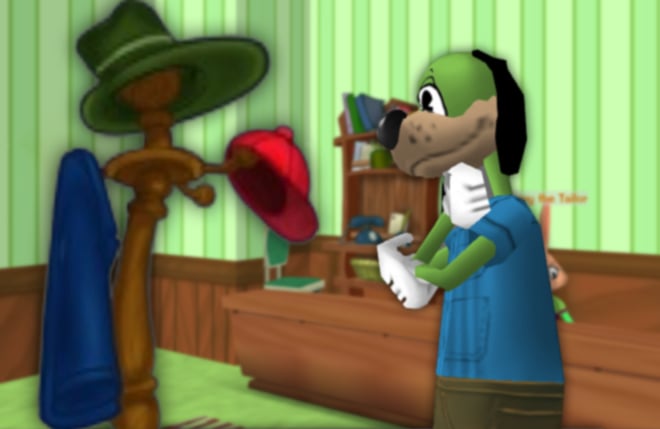 Anyway, boy have we got something in store for you. Not us actually, but Tammy. Tammy the Tailor! It turns out that wearing the same clothes all the time isn't really toony, and much less healthy. All around Toontown, clothing shops are opening for toons to go in and shop for some fancy new
habiliment
. (That wasn't even in the calendar!)
No need to use
floccinaucinihilipilification
on your current clothes, because you can head over to a playground and get some brand new ones for just
150 jellybeans
! We were thinking about using a ticket system to hand out to toons after a series of long quests, however one of the scientists from the Lab pointed out that toons wouldn't like that as much as being able to use their own money. I don't know about you, but it's pretty nice to finally have something to spend money on after all of this time. Maybe the Jellybean economy won't collapse after all! Though, that's just the
floccinaucinihilipilification
talking.
January 2, 2014 [ttr-alpha-g29233af]
Bugfixes:
• NPC Toons no longer have a blank chat bubble when first speaking to them.

Features:
• The clothing stores are now open! Head on over to a playground to get yourself a new pair.
• You can now use Jellybeans at clothing stores instead of a clothing ticket. The current price is 150 Jellybeans, and you will still be able to obtain a free clothing ticket by completing ToonTasks in the future.

---
Comments
Sorry! Comments are closed.
---
---
---
---
---
---
---
---
---
---
---
---
---
---
---
---
---
---
---
---
---
---
---
---
---
---
---
---
---
---
---
---
---
---
---
---
---
---
---
---
---
---
---
---
---
---
---
---
---
---
---
---
---
---
---
---
---
---
---
---
---
---
---
---
Back To Top