More News
Super Saturday: The Fellowship of The Bean
Posted by Sir Max on January 11, 2014 at 2:00 PM
gahh... ahhh.. Wha- we- We made it?
We made it?! Guys, we're back! It's Toontown! I told you that I knew where I was going.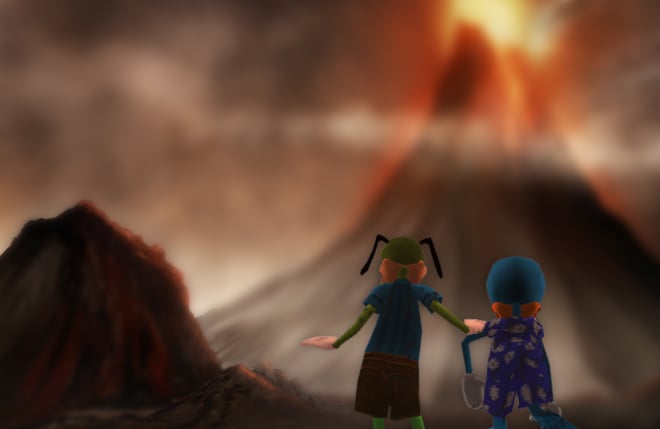 Heyo, heyo, heyo toons. Boy, was that one fun nature walk. And by fun, I mean that all of us nearly died on numerous occasions and I now have to go home and rethink every aspect of my life. So pretty much fun. Oof, I know, we've been gone a while. I planned a three-day hike, though we got a little sidetracked on the way...
So I mean, all was going well for the first ten minutes or so. Maybe seven. Shockley only threatened to throw Too Many Secrets off of a cliff twice, and some nice guys with masks on took all of our supplies. Since we needed some food, I decided to stop by a nearby pond and go fishing. I pulled up my fishing pole from the water, and you'll never guess what I found: A Jellybean! Kids just throw their money away these days.
Anyhoo, so the Jellybean turned out to be some sort of dark power forged by evil, yada yada yada, and we had to go to some volcano down a corridor to destroy it. One doesn't simply walk through a corridor. To get through it, we had to band together and form this Fellowship, or Friendship, of The Bean.
It turns out that friendship really is magic, because Goshi turned into some sort of wizard to help guide us. Well, sort of. He picked up this wizard hat at a convenient store on the way, and this staff with a lightbulb on top of it. Not exactly magic, I suppose. What is magic though is what we discovered on that journey together: Friendship. It's not just a cheesy line, nor a word to use with toons that you don't really know on Toonbook!
Friendship, in combination with Toon T.A.G.S., granted us the ability to see where we all were on this dark journey through a corridor, as well as allowing us to use Loony Lab's Portable Hole to teleport to each other. So yeah, the Jellybean might have been evil and driven us all against each other with greed and power, but we were driven against each other together. If that isn't friendship, I don't know what is.
I'm happy to report that the Bean has indeed been destroyed. We went through that corridor, we fought the monsters, and McQuack and I delivered the Bean safely to a giant molten pit of lava. We were stranded up there for a while, but Goshi came in with a few water hoses and put the fire out. We made our journey back to Toontown, and here we are now.
We may not have been able to build anything for you while we were on that nature walk of doom, but we've brought back the tooniful tidings of Friendship for everyone! Loony Labs has agreed to implement it into their Toon T.A.G.S. so you can passively-aggressively send a "Check Yes or No" note rather than directly asking someone to be your friend. You gotta love those scientists.
Now, if you excuse me, I need to go ahead and rethink my life and all of reality. See you tomorrow, toons!
January 11, 2014 [ttr-alpha-geb281eb]
Maintenance:
• Whitelist update to add a few new popular words
• Add new administrative features, as well as restricting a few spells that we had too much fun with.
• Remove a few calls to ToonTasks until they are implemented.
• Major backend architecture changes to prepare for upcoming updates. (We needed to clean up our mess before making a new one!)

Bugfixes:
• Stop the Toon Detail Panel from going into a strange position when playing in widescreen.
• Fix a crash when entering Silly Street

Features:
• Widescreen support for the Teleport Panel, among other small things we missed
• Updated the Pick-A-Toon screen graphic to look slightly better
• Toon T.A.G.S. Update!



• Never forget who your real friends are! You can now send friend requests to toons.
• Implement whispers to show when a friend comes online or logs off.
• Implement teleporting and whispering to friends. NOTE: Whispering is currently SpeedChat only.



• Removed Disney's 50 friend limit for alpha only. This limit will be added back in the future, but will be expanded to 75 or 100.

---
Comments
Sorry! Comments are closed.
---
---
---
---
---
---
---
---
---
---
---
---
---
---
---
---
---
---
---
---
---
---
---
---
---
---
---
---
---
---
---
---
---
---
---
---
---
---
---
---
---
---
---
---
---
---
---
---
---
---
---
---
---
---
---
---
---
---
---
---
---
---
---
---
---
---
---
---
---
---
---
---
---
---
---
---
---
---
---
---
---
---
---
---
---
---
Back To Top