More News
Daily Alpha Update: A Soothing Nature Walk
Posted by Sir Max on January 4, 2014 at 2:00 PM
Well toons, I've got some good news and some bad news. The bad news? We're going on a soothing nature walk. The good news?
We're going on a soothing nature walk!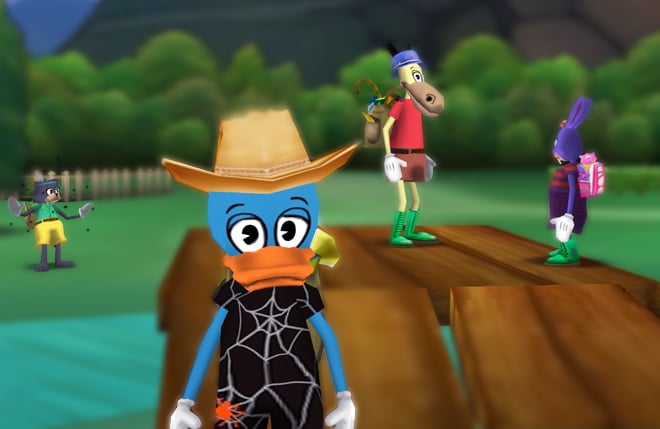 You see, development has been sort of stingy lately. Hawkheart went up to the North Pole for Christmas, then Too Many Secrets ate too much and has been passed out since New Year. Not to mention Shockley, who is busy rigging up some sort of huge party machine from his Christmas toys.
The point is, we're swamped. We fell behind on our updates, so I went ahead and got everyone to take a nice little journey through the wilderness to relieve the stress of being a toon. Some may call it a hiatus of sorts. No worries though, we won't be gone long! It's just a little stroll through the park. Once we return, these updates are going to be back and better than ever.
Once again I apologize for a lack of an update, but we're just up to our neck with Toony things to do. Don't be so glum, though! Slappy and Flippy are still going back and forth in their election campaigns, which is always fun to watch. Ah, politics!
It may not seem like a Super Saturday, but we're taking this one off to make the next one better. Believe me, you'll love what we have in store for the future. See you then, toons!
Now, where did I put that bug spray...
---
Comments
Sorry! Comments are closed.
---
---
---
---
---
---
---
---
---
---
---
---
---
---
---
---
---
---
---
---
---
---
---
---
---
---
---
---
---
---
---
---
---
---
---
---
---
---
---
---
---
---
---
---
---
---
---
---
---
---
---
---
---
---
---
---
---
---
---
---
---
---
---
---
---
---
---
---
---
---
---
---
---
---
---
---
---
---
---
---
---
---
---
---
---
---
---
---
---
---
---
---
---
---
---
---
---
---
---
---
---
---
---
---
---
---
---
---
---
---
---
---
---
---
---
---
---
---
---
---
---
---
---
---
---
---
---
---
---
Back To Top