More News
Daily Alpha Update: New Toons and New Years
Posted by Flippy on December 29, 2013 at 2:00 PM
Uh, err- Heya toons! Excuse me, as I've never done anything like this before. I think some of you know me from my strolls around Toontown, but a lot of you probably don't. My name is Flippy, a bright bluer-than-blue dog who threw black paint on you "toontastic" toons for Halloween! I'm also the other candidate for the Toon Council Presidential Elections!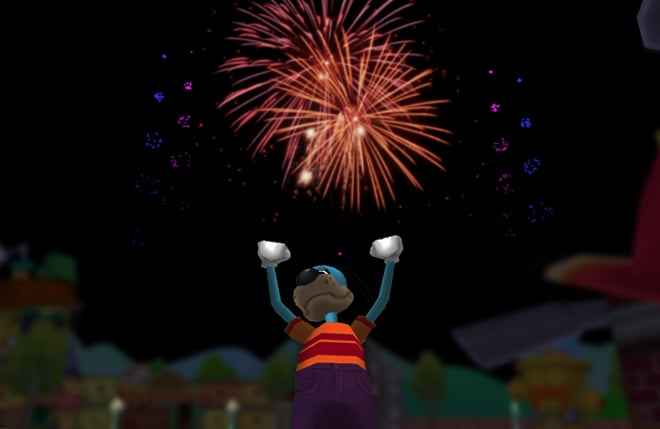 Slappy is surreptitiously silly with his snazzy snowball fights and popular polar bears, which is certainly a tough nut to crack- even with all of the nutcrackers going around this holiday season! I did have one little idea though. It may not be too wacky- and it's certainly not Slappy, but I would like to launch some fireworks as we approach this upcoming year.
I approached Sir Max about the idea, who was horrendously happy to work with me- and even more so, the explosions! Every hour until January 2nd, us toons will be celebrating the New Year with Toontastic fireworks bursting over the playgrounds. When the Toontown sky turns to night, the colorful rockets take flight!
This may not necessarily clobber the competition, but I hope that you all enjoy it. Stay Tooned for a Toontastic New Year, everyone!
December 27, 2013 [ttr-alpha-g2f544f8]
Features:
? Flippy's fantastic fireworks are filling the skies! Take a look into the sky every hour until January 2nd to see the show. Every day we will be introducing a new type of fireworks display.

? The blizzard is over! Heating has been installed into the Brrrgh again, and Lil Oldman is content with his Lumpy Cheese. Don't worry, I don't think he'll hold any grudges. It's not like he will start giving toons one of the hardest Toontasks in all of Toontown.

? The snow has melted, and snowball fights are over. Slappy sends his thanks to everyone who participated, but he doesn't want to steal the spotlight from Flippy today.
---
Comments
Sorry! Comments are closed.
---
---
---
---
---
---
---
---
---
---
---
---
---
---
---
---
---
---
---
---
---
---
---
---
---
---
Back To Top