More News
Rudolph The Red-Nosed Deer Toon
Posted by Holly Daze on December 23, 2017 at 2:00 PM
On the ninth day of winter, Toontown gives to you:
Red-nosed reindeer Toons,
Twice your battle experience,
Cheerful Christmas costumes,
White winter wonderlands,
AND A MEGAAAAAA COG INVASION!
(bum bum bum...)
Lots of caroling Snowtoons,
Brand new winter music,
Festive decorations,
And an update to make your holidays brand new!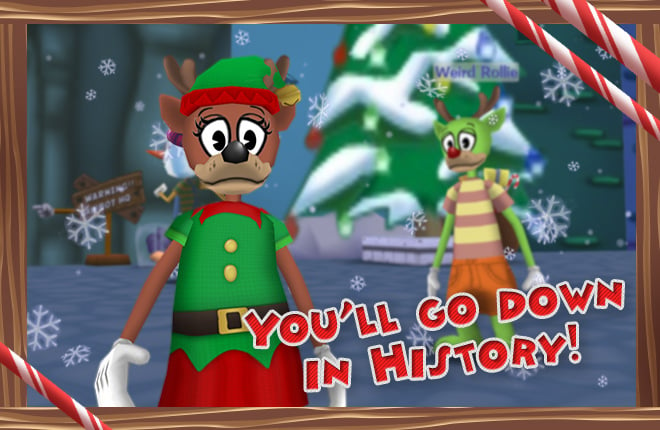 You know Dasher and Dancer and Prancer and Vixen, Comet and Cupid and Donner and Blitzen. But do you recall the most famous reindeer of all?

What, no! Not Rudolph! Holly Daze! You know, like "Happy Holly Daze"? "There's No Place Like Home for the Holly Daze"? Gee, next you'll tell me that you've never heard of the Easter Bunny.
Anywho, regardless of if you've heard of me, I'm in quite the pickle at this point in time. I was helping SantaToon sort his presents, and well -- all I can say is that a little Holiday magic can go a long way. SantaToon always told us to use our magic responsibly while driving the sleighs, but upon trying just that (with a wee bit of irresponsibility) I was whisked away to this Winter Wonderland of Toontown!
I found myself in an odd place where people were gathering for some sort of Milk and Cookie eating contest, somewhat like what SantaToon does the night after Christmas. Lo and behold -- the winner of that contest, Spin McLickit, I think his name was, donned the suit of SantaToon! I figured he might be able to help, but he seemed clueless. He figured that I should at least go to the coldest place in town -- The Brrrgh.
Despite my predicament, the gifts must still be delivered to all the good Toons in town. If you happen to find me, in The Brrrgh of course, I'll give you a Holly Jolly Bag of Toys for helping me get home! However, I do have a little extra something for my fellow Deer who want to help out.
I'll be waiting for you in the Brrrgh. Help me get back to the North Pole, before it's too late! Merry Christmas, Toontown!
---
Comments
Sorry! Comments are closed.
---
---
---
---
---
---
---
---
---
---
---
---
---
---
---
---
---
---
---
---
---
---
---
---
---
---
---
---
---
---
---
---
---
---
---
---
---
Back To Top