More News
The NEW Twelve Days of Winter Are Here!
Posted by Sir Max on December 15, 2017 at 2:00 PM
On the first day of winter, Toontown gives to you:
An update to make your holidays brand new!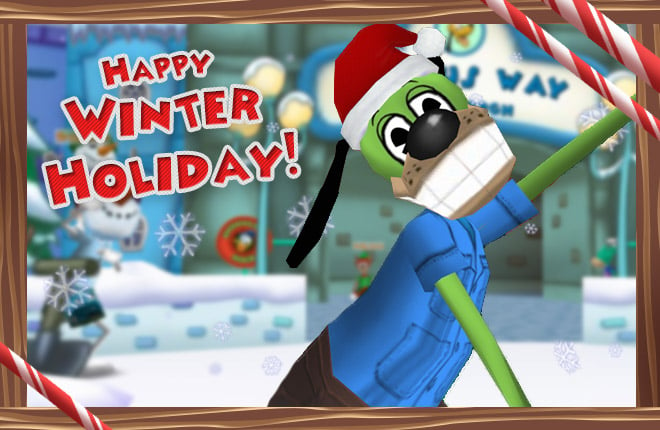 Each and every year, Toons all around Toontown come together to spread joy by celebrating the Winter Holiday. I'm even getting in on the Holiday spirit! I wired up a little something to give my estate a little extra flair this year, but that's not what I'm here to talk about today.
While the holidays are always fun, some traditions just get boring if you don't change them up every now and then. How long have we been singing the same carols and decorating the same decorations? Toon Radio has just been playing Let It Snow on a loop since Thanksgiving, for crying out loud! Christmas is too important of a holiday to let fall into the category of "boring," and that's exactly why we're kicking it up a notch this year.
For the next 12 days, from December 15th to 26th, Toontown will be celebrating the Twelve Days of Winter with some brand new updates! That's right folks, we're changing the lyrics. You'll still see many of your favorite Winter Holiday traditions, but we've thrown some new ones into the mix. Check back every day to see what's new!
You gotta believe me when I say there's something special about this time of year, and Toontown is ready to embrace it. It may just be my crocodile sized toothache acting up again, but this year feels different. There's magic in the air, and it's not from the Blizzard Wizard! So get ready, grab a hot cup of cocoa, and enjoy the season!
If we're lucky, we may even see some new faces in Toontown this year. I ate some of Flippy's fruitcake recently and I had a dream that the Snowtoon at my estate was talking to me. It kept telling me something about "Holly Glaze". Or was it "Jolly Daze"? I was just dazed and confused! Ah well, probably nothing.
No matter what, where, or how you celebrate the holidays, let me be the first to tell you on behalf of the Toon Council: Merry Christmas, Happy Hanukkah, Happy Kwanzaa, and Have a Toontastic Winter Holiday!
---
Comments
Sorry! Comments are closed.
---
---
---
---
---
---
---
---
---
---
---
---
---
---
---
---
---
---
---
---
---
---
---
---
---
---
---
---
---
---
---
---
---
---
---
---
---
---
---
---
---
---
---
---
---
---
---
---
---
---
---
---
---
---
---
---
---
---
---
---
Back To Top