More News
We Want YOU to Join Our Team!
Posted by The Toontown Team on November 25, 2017 at 11:00 AM
The Toontown Rewritten Team has been massively growing over the past year, and now we're looking to expand even more. We have an ambitious plan for new content in 2018 with the debut of Sellbot Field Offices, but we need YOUR help to make it possible! If you want to join the Toontown Rewritten Team, luckily, you already know the first question of the interview...

"Are YOU Toon Enough?"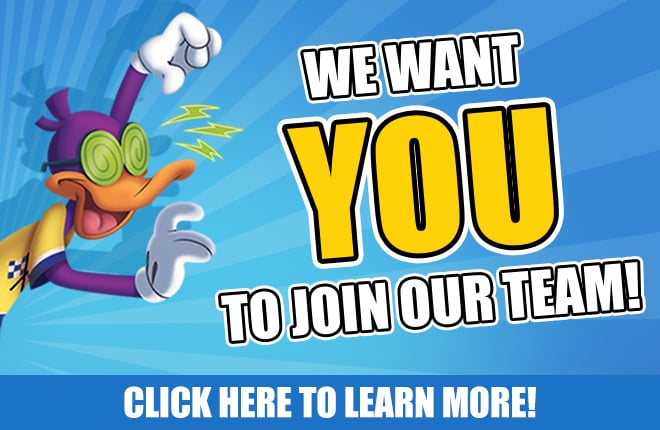 We're looking for a few of you mature, intelligent, talented, and "Toontastic" Toons to come help us work on Toontown Rewritten. Our team is composed of people of all ages from all around the world, who are all incredibly passionate about keeping this game alive. If you fit the bill, we'd love for you to apply to our team.
Working on Toontown Rewritten isn't just fun, but it's an experience like no other. Our staff members have used their time here to get into competitive colleges, gain work experience, and even earn begin careers at major worldwide companies!
We're currently accepting applications for all positions, but these below are in the highest demand:
---
Monitors the game to keep Toontown safe for all ages

Reviews submitted Toon names and blog comments

Issues account infractions for troublemakers

Handles infraction-related inquiries

Handles reports from our players
---
Focuses on the creation of 2D artwork to wrap onto 3D models in-game
Important role in building the world and atmosphere of Toontown

Must be familiar with Photoshop and vector artwork




Training available for those with intermediate texturing knowledge
---
Illustrates brand artwork such as logos, website graphics, and real world promotional material like trading cards and posters
Paints a picture of Toontown Rewritten for people who may not have played the game before

Must be familiar with Photoshop and vector artwork




Training available for those with intermediate illustration knowledge
---
Builds props and environments from concept art, prepares models for animation, animates characters and objects, and implements models into the game

Knowledge and practice with 3D modeling is the base requirement

Rigging and 3D animation skills are encouraged

---
In charge of creating Foley and sound effects to be used in-game or video shorts

Creates ambient noises and other sound related resources

Builds game atmosphere through the use of cartoon sounds to make the game truly sound alive

---
Implements features, tweaks, and bugfixes into Toontown to expand gameplay

Works with other team members to map out gameplay design and play testing for new content

Must have advanced knowledge of Python

Panda3D game engine experience is encouraged
---
If any of these positions sound at all interesting to you, fill out an application! Feel free to check out our other positions on the Team Application Page linked directly above, and check out our fully-fledged new Team Application FAQ for information about specific positions. If you think that you have a talent that isn't listed with any of our applications, feel free to send us a sample of your work with some ideas about how you can make Toontown a better game, and a better place.
Make sure to spread the word to your friends. Working for Toontown isn't for everyone, but playing the game is! We have big things in the works for next year, and you can keep your eye out for some Backstage Posts soon with behind-the-scenes details.
Are YOU Toon Enough to join The Toontown Team?
---
Comments
Sorry! Comments are closed.
---
---
---
---
---
---
---
---
---
---
---
---
---
---
---
---
---
---
---
---
---
---
---
---
---
---
---
---
---
---
---
---
---
---
---
---
---
---
Back To Top