More News
The Weather Is Frightful, but New Music Is Delightful!
Posted by Professor Flake on December 17, 2017 at 2:00 PM
On the third day of winter, Toontown gives to you:
Brand new winter music,
Festive decorations,
And an update to make your holidays brand new!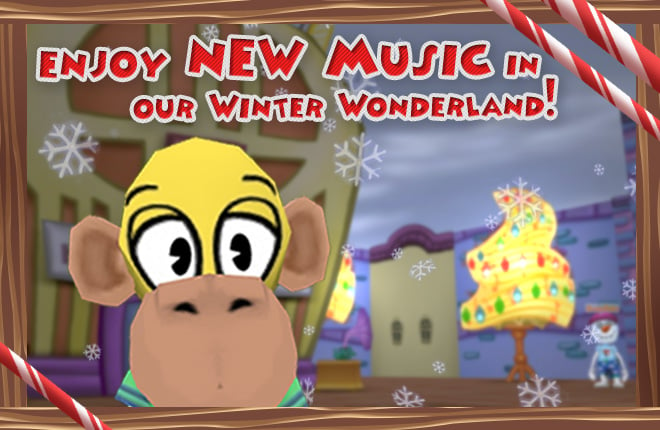 Hello! Professor Flake reporting in from Precipitation Foundation, a branch laboratory of Loony Labs that I run in The Brrrgh. As you may remember, this time last year, my weather research lead me to predict one of the biggest blizzards this town has ever seen. I'm back to tell you all that it's time to march on over to Harry's place and buy some snowshoes, because Toontown's skies are filled with snow!
The barometric pressure is off the charts -- and by that I mean it's fallen straight through the floor! We've never seen a blizzard quite like this one. We here in The Brrrgh are used to being waist deep in snow, but I'm telling you that even the most polar of bears will want to wrap themselves in a warm winter coat this time around. You'd have to be a Snowtoon to enjoy weather like this!
Myself and my crack team of Junior Research Scientists -- who seem to give me the cold shoulder the second they earn their Lawbot suit, hmmph -- have been freezing our laff meters off looking for the "Super-Duper Air Conditioner" that's gone haywire! You'd think finding a simple machine would be easy, but I swear Doctor Surlee gave it a mind of its own when he "accidentally" plunged The Brrrgh into the depths of a never-ending blizzard. Now the blasted thing simply can't be found under all this snow!
Looking at these readings from my lab, I can only conclude that the Air Conditioner has gone bananas once again, likely in ways we've never seen before! Mark my words, if I ever get my gloves on that thing I'll put an end to all of this! My research will never freeze again!
Alas, the hunt continues, this time in whatever crazy snow manifestations this wild Winter Holiday shall bring! Luckily, as I've roamed the playgrounds, I seem to hear brand new Winter Holiday music throughout Toontown. I don't know if I've gone as bananas as the weather, or if the music is really there, but this heavy dose of holiday cheer is just what I needed! Maybe the blizzard isn't so bad after all.
Until next time, Toons. I must get back to my research before it freezes again!
NOTE: This update is not yet live, and will be released to Toontown overnight. Thanks for the patience while we prepare this Winter Holiday fun!
---
Comments
Sorry! Comments are closed.
---
---
---
---
---
---
---
---
---
---
---
---
---
---
---
---
---
---
---
---
---
---
---
---
---
---
---
---
---
---
---
---
---
---
---
---
---
---
---
---
---
---
Back To Top