More News
Have Yourself a Merry Little Outfit
Posted by Finn McWickett on December 21, 2017 at 5:30 PM
On the seventh day of winter, Toontown gives to you:
Cheerful Christmas costumes,
White winter wonderlands,
AND A MEGAAAAAA COG INVASION!
(bum bum bum...)
Lots of caroling Snowtoons,
Brand new winter music,
Festive decorations,
And an update to make your holidays brand new!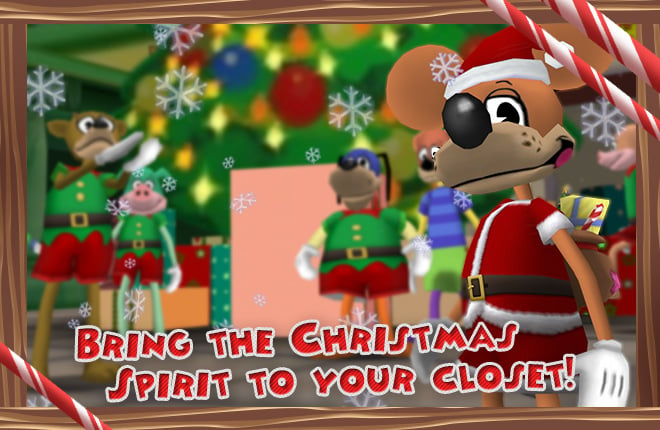 Why, Merry Christmas, everyone! I hope you are all enjoying this Winter Holiday for the ages! I recently won the semi-annual Toon Trooper Holiday Milk and Cookies Eating Contest, which means I have the great honor of wearing the Santa suit this year!
Last year Shockley crammed cookies like no other and won the contest, but lucky for me, he's been too preoccupied working on fixing the "Apple Launcher" to bother about cookies! I don't know what's so special about launching apples into the air, but I know it's important to him.
Although this is my first time posting on the Toontown Blog, you may have seen me and my brother, Cricket McWicket, running around town lately. Cricket is one of the Resistance Rangers helping push back those blasted blue Cogs intent on ruining Christmas! On the other hand, I've been running around decking the halls and setting up various festivities, just as a good Santa should!
While some may say the best part about dressing as Santa is getting the elves to make you all the items on your wish list, for me, nothing beats bringing gifts to Toontown! As they say, the proof is in the figgy pudding, and boy do I have some pudding for you...
Just like any good present, this will only arrive once Santa slides down the chimney, so keep your ears listening for the jingle jangle of my sleigh bells! Granted, I have to build my own sleigh first, but soon enough I will be riding in with my team of reindeer sometime before the next blog post. Once that happens, crack open your Shtickerbook -- not too loud, or Librarian Larry will hear you -- turn to the "Options" page, and then click on the "Codes" tab. Type in "coming-to-town" to join me in double checking the naughty list or "on-the-shelf" to help fill Santa's bag!
Don't take down your stockings quite yet, though! Did anybody ever tell you that Santa's bag is magic? I'm spilling all those jellybeans I got from caroling. As the honorary Santa, I can tell you a little secret about the next update... Let's just say that one of SantaToon's real elves has something to complete your outfit!
While you're keeping your eyes out for that elf, don't forget to send your fellow Toons some Christmas gifts this year. Getting gifts is great, but there's nothing quite like giving to others that makes things merry and bright. Merry Christmas, Toontown!
---
Comments
Sorry! Comments are closed.
---
---
---
---
---
---
---
---
---
---
---
---
---
---
---
---
---
---
---
---
---
---
---
---
---
Back To Top