More News
Run, Run, Resistance Rangers
Posted by Toon HQ on December 19, 2017 at 2:00 PM
On the fifth day of winter, Toontown gives to you:
A MEGAAAAAA COG INVASION!
(bum bum bum...)
Lots of caroling Snowtoons,
Brand new winter music,
Festive decorations,
And an update to make your holidays brand new!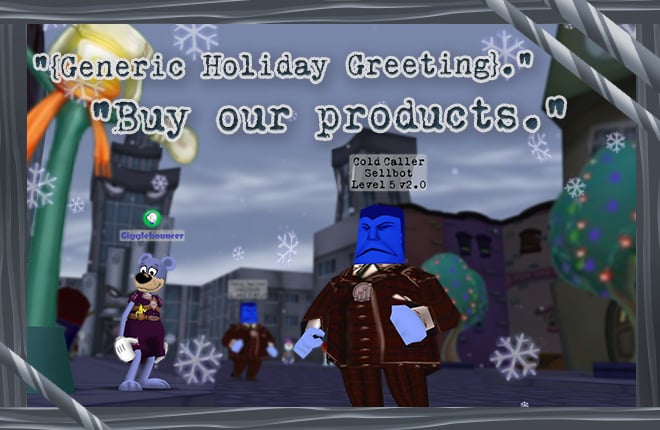 ATTENTION ALL TOONS: A Mega-Invasion has Begun!
Version 2.0 Cold Callers are taking over Toontown!!!
You're a mean one, Mr. Cold Caller! Toon HQ has just received word amid the hustle and bustle of the holidays: the Cogs have been trying to cold call Toon's houses in order to sell needlessly overpriced gifts! The Sellbots have just been getting dial tones every time since everyone is out looking for Snowtoons, so they've decided to take advantage of all the falling snow by sending Cold Callers out onto the streets!
We can't let these Cold Callers fill our stockings with expensive novelty coal, so we need all the help we can get onto the streets to fight back this invasion! Lord Lowden Clear made a phone call of his own, and the Resistance Rangers have been deployed as well to help save Christmas from the Cogs! Keep an eye out for them fighting Cogs throughout Toontown.
Bundle up, because we expect that this invasion won't be over until December 21st at 2:00PM Toontown Time. (PST) We need YOUR help to make Toontown's Christmas merry for everyone!
---
Comments
Sorry! Comments are closed.
---
---
---
---
---
---
---
---
---
---
---
---
---
---
---
---
---
---
---
---
---
---
---
---
---
---
---
---
---
---
---
---
---
---
---
---
---
---
---
---
---
---
---
---
---
---
---
---
---
---
---
---
---
---
---
---
---
---
---
---
---
---
---
---
---
---
---
---
---
---
---
---
Back To Top