More News
Simply Having a Wonderful New ToonTask
Posted by Snowman on December 18, 2017 at 7:30 PM
On the fourth day of winter, Toontown gives to you:
Lots of caroling Snowtoons,
Brand new winter music,
Festive decorations,
And an update to make your holidays brand new!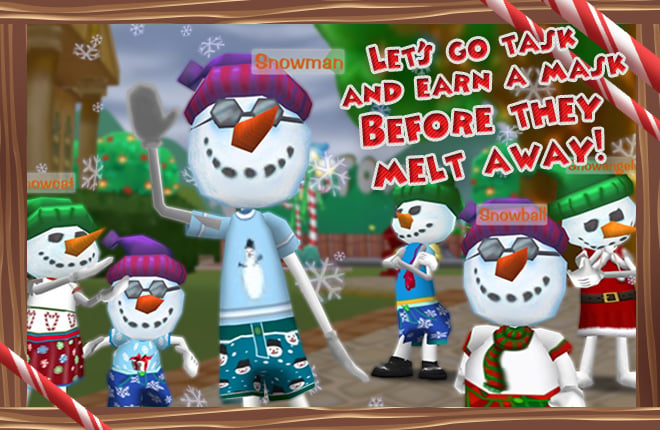 Hello there, warm fellas! The name's Snowman, and I'm a Snowman. Well, Snowtoon if you'd like to get technical. Boy, let me tell ya, I've never seen a snow like this since the great snow where Rudolph went down in history!
Yessir, I've seen many snows, many holidays, many towns. You could say I'm quite the expert on holiday cheer, and now, I'm here to bring that cheer to Toontown. I'm not the only Snowtoon around - far from it! I'm joined by Snowball, Snowangel, Snowshoe, Snowcat, and Snowflake, all visiting Toontown to enjoy the lovely frozen-cold weather.
You don't need a magic silk hat to talk to this Snowtoon, only an empty ToonTask slot and a little Christmas cheer! If you come find me in Toontown Central, I'll give you a limited-time ToonTask that gives you a Winter Caroling hunt like never before.
Forget everything you know about Snowman Heads, Winter Caroling, and... Well that's about it really, you probably need to remember the other stuff. But forget those things, and come find me! I promise I don't frostbite.
I'll be around until the snow melts, but don't worry - I'll be back again some day! Happy Winter Holiday, Toontown!
December 18, 2017 [ttr-live-2.1.0]
General
• Updated the game engine with various bugfixes.
• Fixed a visual bug causing a white tint when playing in full screen with some Nvidia Graphics Cards.
• Added support for 1920x1200 screen resolution.
• Implemented support for more advanced interactive walking NPCs, currently used for the Winter Holiday Snowtoons. Let us know if you like these NPCs and would like to see more like them!

Make-a-Toon
• Fixed a typo when rewriting a Toon with a special color.

ToonTasks
• Shopkeepers and HQ Officers now respond with special dialogue when attempting to turn in an incomplete ToonTask.
• Fixed a typo with Cog Building ToonTasks.

Parties
• Plan a Winter Holiday Party! Special decorations are available for a limited time.
• Fixed a server crash relating to the Tug-o-War activity.

Estate
• Fixed an issue with duplicate winter items appearing in the Cattlelog.
• Fixed a server crash relating to winter Cattlelog items.

Minigolf
• Fixed a longstanding bug preventing Windows users from hitting golf balls properly. Their physics-breaking shenanigans have been stopped!

Cog HQ
• Fixed a crash at the end of boss battles when eight Toons are present.

Winter Holiday Event
• It's snowing! This blizzard is set up to be Toontown's fiercest yet.
• Added new Winter Holiday music to all playgrounds.
• Implemented brand new Winter Caroling ToonTasks! These tasks phase out the old puzzle and add a brand new in-game scavenger hunt to earn your Snowman head. You can grab the task by talking to Snowman in Toontown Central.
• Added several hidden features yet to be revealed during the Twelve Days of Winter.

NOTE:
Our Toon Troopers are working on getting this update released as soon as possible. You won't see these Snowtoons in game just yet! In the meantime, sit back by the fire and drink some cocoa while listening to this special sneak preview of the
Toontown Central Winter Holiday Music
!
---
Comments
Sorry! Comments are closed.
---
---
---
---
---
---
---
---
---
---
---
---
---
---
---
---
---
---
---
---
---
---
---
---
---
---
---
---
---
---
---
---
---
---
---
---
---
---
---
---
---
---
---
---
---
---
---
---
---
---
---
---
---
---
---
---
---
Back To Top