More News
May All Your Playgrounds Be White
Posted by Paula Behr on December 20, 2017 at 2:00 PM
On the sixth day of winter, Toontown gives to you:
White winter wonderlands,
AND A MEGAAAAAA COG INVASION!
(bum bum bum...)
Lots of caroling Snowtoons,
Brand new winter music,
Festive decorations,
And an update to make your holidays brand new!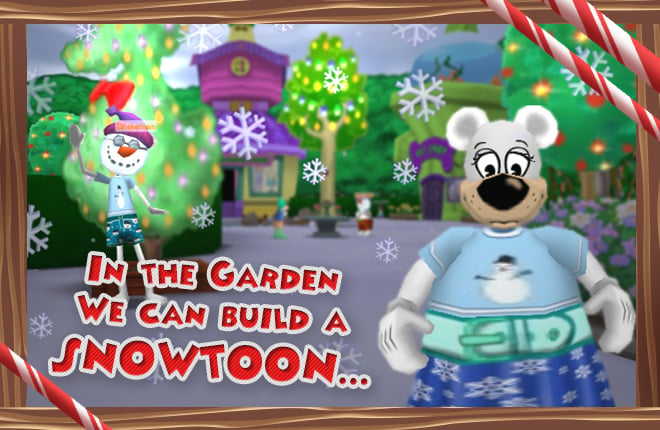 Howdy, Toons! It's my favorite time of the year. Business is booming here at Hibernation Vacations, and in case you haven't noticed, Toontown is covered in a white blanket of snow! Everyone wants to roast their Laff meters over a warm fire in Honolulu when weather like this hits, and that's the kind of service I'm all about!
This time of year really makes my sleigh bells ring. It's like a wonderland is cascading from the sky! I'm really frost-smitten when it comes to winter. In fact, it's why my fur coat is so arctic! Slappy Quackintosh himself gave me my white coat all those years ago. Just thinking about it makes me lose Laff points, considering… Well, you know…
All this snow really makes me feel at home. There weren't a lot of Polar Bears left after the Cogs invaded, so it really warms my heart to feel cold wherever I go, as I'm reminded of the fond winter memories we shared. I know our numbers are growing, but I still like to reminisce. If it weren't for Doctor Surlee, I might have been the only Polar Bear left in Toontown!
I hope I haven't been melting your holiday spirit too much with my stories. I know I tend to dwell on the past, but deep down I know that there's much more to be merry about! I have a feeling that we'll even be starting some new traditions over the next few days, bringing new memories and fun times to be had. It's why I give everyone a big white bear hug whenever someone enters my shop! Even on the foggiest of nights, there will always be a light shining through.
So, if you're in the neighborhood, come on by and say "Howdy!" to me in my shop! I've left the light on just for you.
---
Comments
Sorry! Comments are closed.
---
---
---
---
---
---
---
---
---
---
---
---
---
Back To Top