More News
A Thanksgiving Update to be Thankful For
Posted by Sir Max on November 23, 2017 at 7:00 AM
If you've been eating Turkey for Thanksgiving, you're doing it all wrong. I mean, sheesh, they were one of the contenders for the Toon Species Election at one point! Try your hand at a traditional Toontown Thanksgiving feast instead: Buttered toast, popcorn, jellybeans, and plenty of pies.
We've got fruit pies, leftover jack-o-lantern pies, jellybean pies, beanjelly pies, carkey lime pies, mud puddle pies, sweet potato pies, sour potato pies, SaskaToon berry pies, shepherd's pie, sheep's pie, wolf's pie, and that's not even the half of them!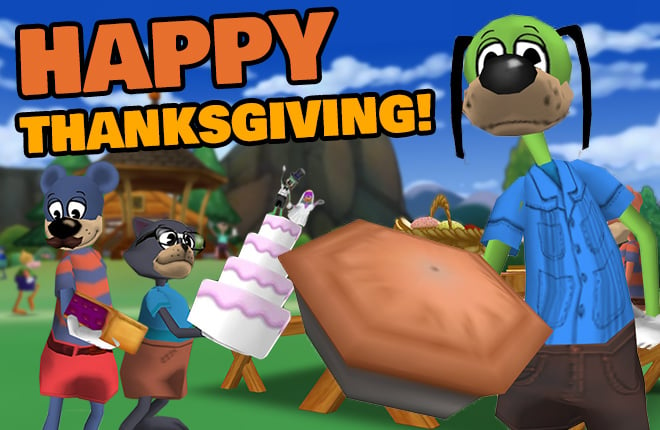 Yeesh, I got carried away and nearly forgot the point of this post. We've certainly got a lot to be thankful for, whether it be for the hard-working Toon Council, this week's Annual Cattlelog Sale, or the faithful Toons fighting off the Skelecog Mega-Invasion, who launched a surprise attack to ruin our holiday fun.
Now I know it's not part of our traditional Thanksgiving meal, but I'm going to have to get a little cheesy here. The folks on the Toon Council, to be frank, are thankful for YOU! That's why us Toon Troopers put together a Thanksgiving Update to be thankful for.
We listened to the community and hunted down the nastiest, most dastardly bugs in Toontown (next to butterflies, that is). You can consider those bugs squashed, because this Thanksgiving Update is packed full of widely requested bugfixes and little things to touch up Toontown. You can get the full details in the release notes at the end of this post -- chances are one of those pesky bugs that's been annoying you has been fixed!
Happy Thanksgiving, Toontown. Go enjoy some of those pies for me!


Note from The TTR Team: As you go through your day today, take some time to remember how thankful we are to have Toontown. By the hard work and generosity of Toontown's developers throughout the years, and most importantly the founders over at Disney, we've been able to experience this wonderful game for over 14 years.
We'd also like to give a special thanks to the Programming and Technical Operations Staff on our team, who took time away from their Thanksgiving Holiday to put this update together. We're thankful for YOU, and we wanted to show it! Toons of the world, UNITE!
November 23, 2017 [ttr-live-v2.0.6]
General
• Fixed an issue with the Skelecog Mega-Invasion end date being incorrect in the calendar.
• Improved our "District Draining" feature, allowing us to locate Toons to a different district and perform maintenance without disrupting gameplay.

Toons
• Black Cats, Polar Bears, and ToonFest Blue Toons can now use a "Toon Rewrite" without losing their special color.
• Fixed "poofing" for Pumpkin and Snowman heads when running down the street. That'll come in handy this winter!
• Improved detection to make sure no Toons are left with a permanent Pumpkin head.

Cog HQ
• Fixed a crash related to unites, often causing a crash at the end of a CFO.
• Fixed a bug causing portions of the Sellbot Factory to disappear when in the East or West Elevator Shaft.
• "SPLATS" will now appear properly for pies thrown by other players in places such as the Sellbot V.P. Battle.
• Fixed an issue causing excessive frame rate drops when throwing pies in the Sellbot V.P. or Lawbot C.J. Battle. Let us know if you see an improvement!

Fishing
• Fixed an animation error when reeling in fish.
• Slightly reduced the length of the reel animation.

Racing
• All racing trophies should now display properly in the Shtickerbook.
• Fixed a visual bug causing the shadow to be visible in the air when placing a Kart.
• Added widescreen support for the "Exit" button on a race pad.

Parties
• Fixed a district reset relating to Party Planning.

Battle
• Chat messages will no longer be cleared after a Toon-Up gag has been used. (They will, however, still be interrupted by laughs. You can't help but laugh at a good gag!)
• Fixed a district reset relating to battles.
• Fixed a bug causing Toons to receive no experience if another Toon unexpectedly disconnects in a Cog Building.
• Fixed the "500 to go" bug once and for all -- we hope! Send us an email if this issue continues to pop up in any of your battles.

---
Comments
Sorry! Comments are closed.
---
---
---
---
---
---
---
---
---
---
---
---
---
---
---
---
---
---
---
---
---
---
---
---
---
---
---
---
---
---
---
---
---
---
---
---
---
---
---
---
---
---
---
---
---
---
---
---
---
---
---
---
---
---
---
---
---
---
---
---
---
---
---
---
---
---
---
---
---
---
---
---
---
---
---
---
---
---
---
---
---
---
---
---
---
---
Back To Top