More News
Celebrate with the New Year's Top Toons Marathon!
Posted by Sir Max on December 31, 2017 at 6:00 PM
Happy New Year's Eve, Toontown! We're just a few hours away from that awesome moment when the clock strikes twelve, the fireworks start, and the New Year's Top Toons Marathon begins!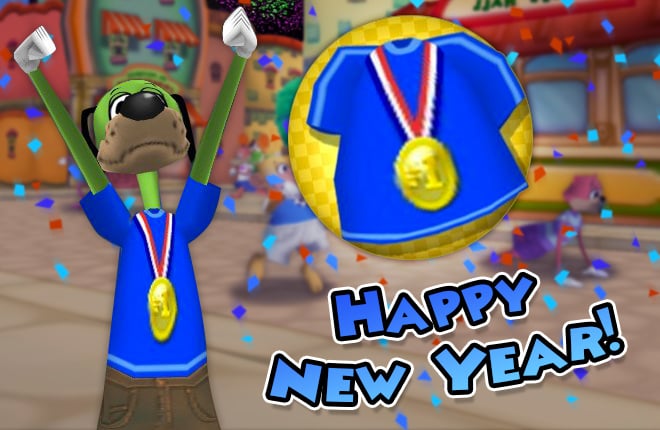 Boy, I've got a good feeling about this year. It's the year of the dog, after all, and I am in fact scientifically proven to be a dog. "Bark?" I've got a totally foolproof strategy, too. There's no better way to prepare for a marathon than by joining the New Year's Eve party and stuffing your face full of junk food.
How's it work, you ask? Let's bring out the official rule book!
The New Year's Top Toons Marathon will begin at 12:00 AM Toontown Time (PST) on January 1st. That's tonight!


Each hour for 24 Hours, four Top Toons will be chosen in two categories: Most Cogs Defeated and the Most Cog Building Floors Recovered. (NOTE: A one story building counts as one, and a five story building counts as five!)


All you need to do is pick which category you want to shoot for, and fight as many Cogs or Cog Building Floors as you can within the span of whichever hour(s) you choose! In the case of ties, more Toons will be chosen for that hour.


Toons can only win once, in one category and one hour. If you win more than once, Toon HQ will count only your highest amount.


Winners will receive an exclusive gold medal shirt as soon as the winners are posted, given out only to the Top Toons every year!
That gold medal shirt is a mighty fine prize. Besides, those Laff-o-Lympics shirts are so last year. (Literally!) You certainly don't want to miss this great Cog-busting event to kick off the New Year, Toontown style!
I need to get back to my eating -- err, training. I'll see you next year, Toontown!
---
Comments
Sorry! Comments are closed.
---
---
---
---
---
---
---
---
---
---
---
---
---
---
---
---
---
---
---
---
---
---
---
---
---
---
---
---
---
---
---
---
---
---
---
---
---
---
---
---
---
---
---
---
---
---
---
---
---
---
---
---
---
---
---
---
---
---
---
---
---
---
---
---
---
---
---
Back To Top