More News
The Laff-o-lympics Closing Ceremony
Posted by Flippy on October 19, 2017 at 5:00 PM
Hello Toons, far and wide! It's Flippy, President of the Toon Council, here to make a grand announcement: The Laff-o-lympic Games are officially closed, and our winners have been declared! It's been wonderfully wacky ever since Crocodile and Deer Toons came to town, and now it's time to celebrate those who put their skill to the test and proved themselves to be "Toon Enough!"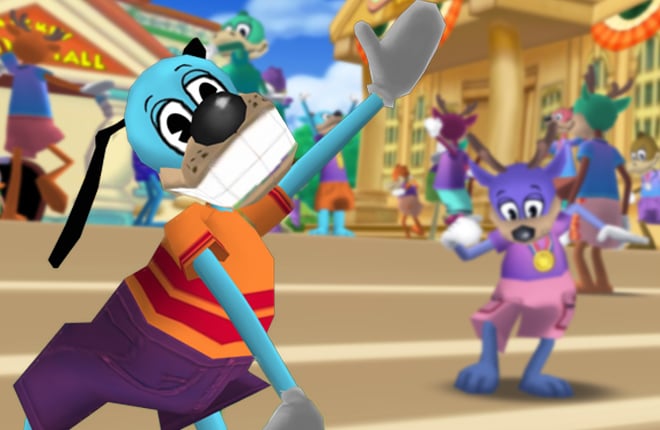 The Laff-o-lympics was Toontown's first ever Laff race, in which new Deer and Crocodile Toons were challenged to reach 50, 100, or 115 Laff points in a month's time. The event was extended to October 9th due to some unplanned problems, but this doesn't make the feat any less of an accomplishment for those who earned it!
If we had the time, I'd love to list every single award winner of these Laff-o-lympics -- but we had such a Toontanic turnout that we can't fit even just the gold winners here! Instead, we want to send a colossal "CONGRATULATIONS!" to all of the dedicated Toons who participated in the event, and those kind folks around town who were so friendly to our new Deer and Crocodiles.
If you competed in the Laff-o-lympics, check your mailbox for your awards! ToonFest tokens won't be found in your mailbox, but rather directly in your jar. Check out the list below for the full set of prizes.


50 Laff - Receive a bronze medal shirt and a "New Toon Starter Pack" full of 3000 jellybeans and 1000 ToonFest tokens!
100 Laff - Receive a silver medal shirt and two exclusive SpeedChat phrases to show your glory!
115 Laff

- Receive a gold medal shirt, and enter a drawing to win one of three real-world Toontown prize packs with a Toontown poster, drawstring bag, and trading cards! ONE grand prize winner of the drawing will receive a Toontown poster signed by members of the Toontown team.
Each milestone will receive the previous milestone's rewards in addition to the listed prizes. The medal shirt rewards are not the same as the gold medal shirt given during January's Top Toons contest.


I'm extremely excited to announce that 3,628 Toons made it to bronze, 802 Toons made it to silver, and 191 made it to gold! You all are BEYOND dedicated to reach such heights of silliness! Some Toons made it as far as 130 Laff points in under a month, which practically scared the pants off of Shep Ahoy! You did sleep, right?
Finally, I'd like to announce our the winners of our Gold-level drawing. All Laffletes who earned gold were entered into a drawing to win an out-of-Tooniverse Toontown prize pack with a Toontown poster, drawstring bag, and trading cards from the ToonFest at ReplayFX convention. Three of them have been randomly chosen to win this prize, and ONE of those three is our grand prize winner, receiving a signed poster from the Toontown Team!
Our two drawing winners are Crocodile Tears (115 Laff) and Oh Deer (117 Laff), followed by our GRAND Prize Winner: Count Bleck (115 Laff)!
If you see your name on that list, expect to receive an email from the Toontown Team within a week about how to receive your prize - and let me be the first to give you an official "Congratulations!" on behalf of the Toon Council!

The Laff-o-lympics were a blast, and we've heard tons of great things about the event. New Toons were made, new friendships were forged, and a MASSIVE amount of Cogs were defeated. We hope that you enjoyed this event, and for those that didn't get to participate -- keep your eyes peeled, because it can always return in the future!
In the meantime, join me in congratulating our TOONTASTIC Laffletes!
---
Comments
Sorry! Comments are closed.
---
---
---
---
---
---
---
---
---
---
---
---
---
---
---
---
---
---
---
---
---
---
---
---
---
---
---
---
---
---
---
---
---
---
---
---
---
---
---
---
---
---
---
---
---
---
---
---
---
---
Back To Top