More News
Grab a Toontown Member Mailer TODAY!
Posted by The Toontown Team on October 26, 2017 at 2:00 PM
You didn't think that we forgot, did you? Toontown Member Mailers are back again to bring you a taste of real-world Toontown Merchandise for the low price of FREE! With just paying for the price of postage, we'll send you a set of three Toontown Trading Cards and a mini Toontown poster from ToonFest at ReplayFX 2017.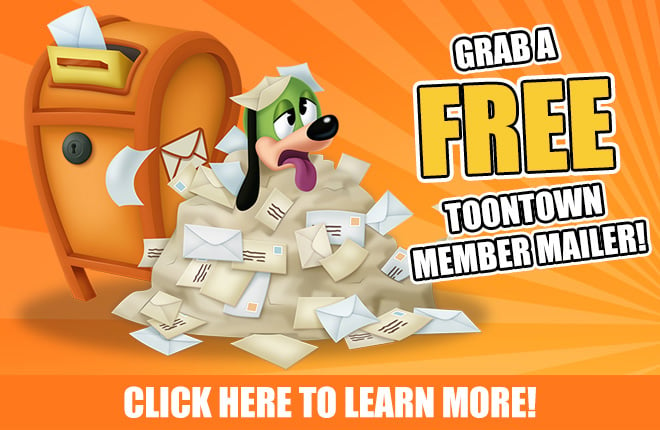 Here on the Toontown Team, we love doing whatever it takes to spoil our players. We pour thousands of dollars of our own money to put on the annual ToonFest convention, but we know it's not possible for every player to attend even if they're the most dedicated Toontown fans. (We're talking about YOU!)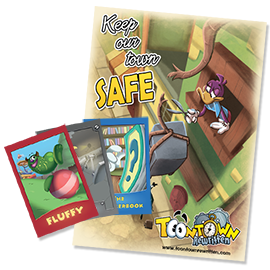 To make it up to our dedicated fans who aren't able to come, we order an excess amount of merchandise for the convention which we use to send out FREE Toontown collectables to any player from almost anywhere in the entire world -- all we ask is that you pay for postage.
To learn more about Member Mailers, click on the image above for complete information and step-by-step instructions about how to grab yours today.
All letters must be postmarked by December 31st in order to guarantee that we can meet the demand. If we still have supplies left after that date, we'll make another blog post with an extended deadline.
You can also use your Member Mailer request envelope as an opportunity to send a letter or fanart to the Toontown Rewritten Team! Send us something cool, and you might just see it posted on our website or social media! (Don't forget to attach your Toon name so that we can give credit where its due.)
We have ALL of the letters and fanart that we've ever received safely stored to put on the Toon HQ page of our website when it launches, so if you've sent us something in the past -- trust us, we've got it.
Click on the image above to learn more about the Toontown Member Mailer program, and don't forget to ask a parent before participating. Enjoy!

---
Comments
Sorry! Comments are closed.
---
---
---
---
---
---
---
---
---
---
---
---
---
---
---
---
---
---
---
---
---
---
---
---
---
---
---
---
---
---
---
---
---
---
---
---
---
---
---
---
---
---
---
---
---
---
---
---
---
---
---
---
---
---
Back To Top