More News
Grab Your Toontown Member Mailer!
Posted by The Toontown Team on July 2, 2016 at 2:00 PM
It's that time of year again! The convention may be over, but you know we love spoiling our players. We ordered an excess of merchandise this year, which means even those who couldn't attend can get real world, "out-of-Tooniverse" Toontown stuff, for absolutely
FREE!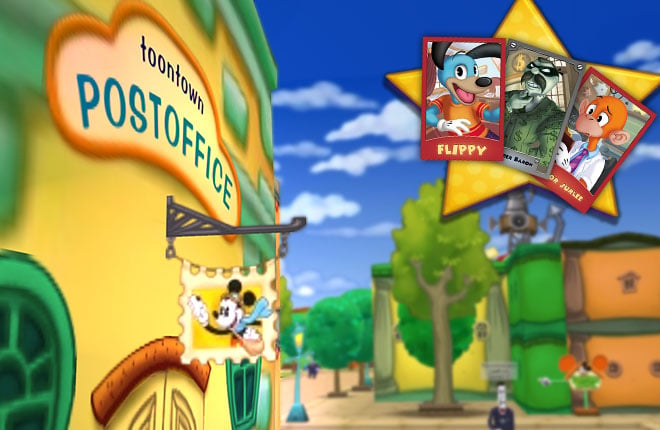 Getting a Toontown Member Mailer is as simple as putting a stamp on an envelope -- if you pay for the postage, we'll pay for the merchandise out of our own pockets!
It's our solution to give those neat looking Trading Cards to all members of Toontown, and you can participate from
almost anywhere
in the world.
Learn how to get YOUR Toontown Member Mailer!
It's easy as a slice of pie to do. Last year, our member mailers were a hit as we sent and received hundreds and HUNDREDS of them. Act now, because to make sure you get your mailer you need to have it postmarked by
July 31st
!
If you missed out on last year's mailers, don't sweat it -- it's never too late to start a collection. This is only our second round, after all. In addition to the trading cards, you'll get a specially-made post card straight from Flippy, too.
While it's not required in any way, we would love to hear from you in your mailer. Feel free to include a letter, fanart, or just a slip of paper that says "Hello!", as we go through each and every piece of mail that we get. You may even see your work end up on our blog in the future!
You can learn more about the Toontown Member Mailer program over on our
Help Page
, and
don't forget to ask a parent before participating.
Enjoy!
---
Comments
Sorry! Comments are closed.
---
---
---
---
---
---
---
---
---
---
---
---
---
---
---
---
---
---
---
---
---
---
---
---
---
---
---
---
---
---
---
---
---
---
---
---
---
---
---
---
---
---
---
---
---
---
---
---
---
---
---
---
---
---
---
---
---
---
---
---
---
---
---
---
---
---
---
---
---
---
---
---
---
---
---
---
---
---
---
---
---
---
---
---
---
---
---
---
---
---
---
---
---
---
---
---
---
---
---
---
---
---
---
---
---
---
---
---
---
---
---
---
---
---
---
---
---
---
---
---
---
---
---
---
---
---
---
---
---
---
---
---
---
---
---
---
---
---
---
---
---
---
---
---
---
---
---
---
---
---
---
---
---
Back To Top