More News
Oh, Say, Can You See?
Posted by Sir Max on July 4, 2016 at 2:00 PM
Oh, say, can you see? No, I mean really -- can you see my firework cannons anywhere? It seems like McQuack hid them from me again. Oof, every
Fourth of July
gets harder to put on because of his shenanigans. It's like he thinks he has reason to be scared of explosions!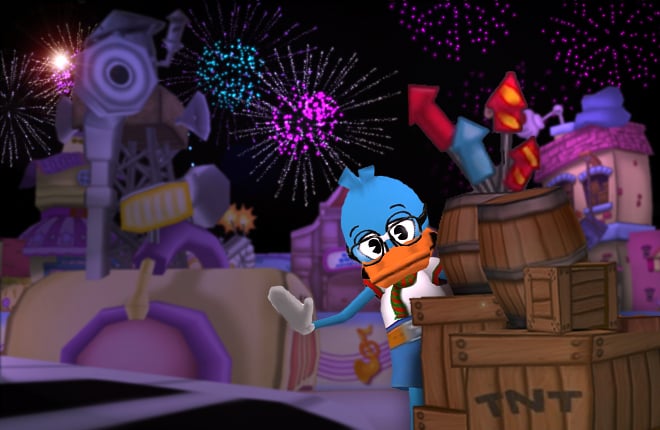 Now, with the Toontown Summer Festivities in full swing, it's just only logical for me to break out the firework cannons. If not now, when would it be? Besides, we're going to need a big show to prepare for the upcoming events.
In just four days we've already got a bunch of
Toontown Tweaks
,
free merchandise
for all members, and a
Firework Extravaganza
of massive proportions -- and who knows what great things are coming next! Well, I know, but I can't exactly let you in on that secret without risking my job.
Oh, say! I just got a whisper from McQuack. Looks like he read what I said earlier. He says:
"I have over six definitive reasons to not only be scared, but emotionally scarred by explosions that you have caused, which I've listed in the order of their impact on my physical well-being. You're never getting those firework cannons back!"
Don't mind him, he's just a drama queen. Err, duck. Nonetheless, the show must go on! I'll just have to cook up some of my own homemade fireworks that I made in Chemistry class. It wasn't really part of curriculum. He'll like those.
Enjoy the show, Toontown! Fireworks will be launching every hour until
12:00AM on July 7th
, Toontown time (PST).
P.S.
-- For those of you still waiting to get into the game after the big update, we recommend checking out our social media sites for the latest updates and news on getting you back into Toontown. It won't be too long now. We're working hard, even on the holidays!
---
Comments
Sorry! Comments are closed.
---
---
---
---
---
---
---
---
---
---
---
---
---
---
---
---
---
---
---
---
---
---
---
---
---
---
---
---
---
---
---
---
---
---
---
---
---
---
---
---
---
---
---
---
---
---
---
---
---
---
---
---
---
---
---
---
---
---
---
---
---
---
---
---
---
---
---
---
---
---
---
---
---
---
---
---
---
---
---
---
---
---
---
---
---
---
---
---
---
---
---
---
---
---
---
---
---
---
---
---
---
---
---
---
---
---
---
---
---
---
---
---
---
---
---
---
---
---
---
---
---
---
---
---
---
---
---
---
---
---
---
---
---
---
---
---
---
---
---
---
---
---
---
---
---
---
---
---
---
---
---
---
---
---
---
---
---
---
---
---
---
---
---
Back To Top