More News
Summer Fun, Fights, and Fireworks!
Posted by Sir Max on July 4, 2014 at 2:00 PM
Ah, summer. It's finally here! I mean, it's been here for a while for most of us. Management says we need to wait until July to do any festivities, though, because of the
Easterners
. You know, those people with the weird accents on the other side of the globe.
Those
guys. They may make us wait for our festivities, but that doesn't stop us from embracing
'MURICA
on them by starting our event on the most patriotic holiday of all!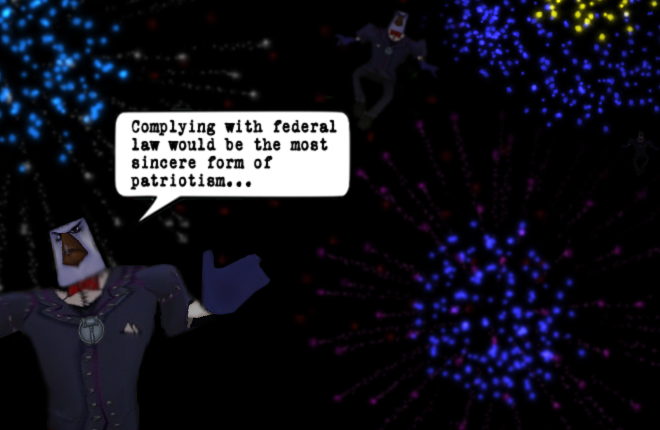 Darkness no more, however, because it's time for a big ol'
Toontown Summer Celebration
! For the next three days of this long weekend, we'll be Celebrating Summer around the clock with events here in Toontown. Flippy made sure to get some top-of-the-line fireworks for an entirely new show like never before, so hang onto your pants unless you want to end up like
McQuack
! (Sorry Smokey Joe, but the Used Firecrackers just don't cut it.)
I am required to warn you, though, that Toon HQ has been detecting some strange Cog activity in the skies. Seems like the business baddies aren't too happy with us putting a bunch of explosions up in their flying zone. Really, I don't know how we didn't think of it sooner. (I'm not saying I should be on Toon Council or anything, but I should definitely be on Toon Council or anything.)
Anyway, back to business: Looks like these bots are organizing
Mega-Invasions
of massive proportions to take back the skies for their own. It's the Legal Eagles, no less! You'd think that those blasted birds would be a bit more patriotic. Now that I think about it, though, we are missing quite a few necessary permits to launch Fireworks...
Get yourselves hyped up for Day 2 of the celebration folks, because I've heard that there is a Super Saturday underway targeted towards you PlayTime people! I'm off to round up the 'Muricans to give those Legal Eagles a taste of
freedom
,
sky-neutrality
, and
constitutional democracy
.
July 5, 2014 [ttr-beta-v1.3.1]
Maintenance:
• Improve racing code to prevent exploits
• Experimental: Turn on anti-aliasing by default
• Reduce logging of Cog pathfinding
• Implement Official Invasion API. In the future, the API will only show detailed stats for toon-summoned invasions. We never know when those baddies will attack! Due to the limited amount of invasions, it currently shows random invasions as well.

Bugfixes:
• Prevent a crash when using Shift+F1 in a Cog HQ Interior area
• Fix a bug where all DA Office elevators would lead to Office A
• Prevent a rare crash when loading Shtickerbook settings
• Fix an OSX crash that would commonly occur during boss battles

Tweaks:
• Big Magnets are now blue to match their icon
• Tweak random invasion probabilities and length based on community feedback

Features:
• Improve Firework shows with the "new" Firework system. Toontown Online originally changed the fireworks to a new type at some point in its lifetime. The old system was previously used on Toontown Rewritten due to an engine incompatibility, which has since been fixed. Enjoy the better looking Fireworks!
• The Legal Eagles aren't too happy with throwing explosions into their airspace. Legal Eagle Mega-Invasions have begun!

---
Comments
Sorry! Comments are closed.
---
---
---
---
---
---
---
---
---
---
---
---
---
---
---
---
---
---
---
---
---
---
---
---
---
---
---
---
---
---
---
---
---
---
---
---
---
---
---
---
---
---
---
---
Back To Top