More News
President Flippy's Wild Line
Posted by Sir Max on July 5, 2014 at 2:00 PM
Day 1. In the PlayLine.
Today marks the first steps of my journey into the dreaded
PlayLine
. As a Toon Trooper, the certificate crumpled up in the back of my closet somewhere says that it is my duty to ensure that everything in Toontown is in tip top shape. Based on some strongly-worded essays sent to my house (I swear I didn't cry.) and a few erase-threats here and there (Alright, so I did cry. It was only 3 hours. 7 hours tops.) I have decided (More so forced, as one of the erase-notes threatens.) to head out to the outskirts of Toontown and try out the PlayLine for myself.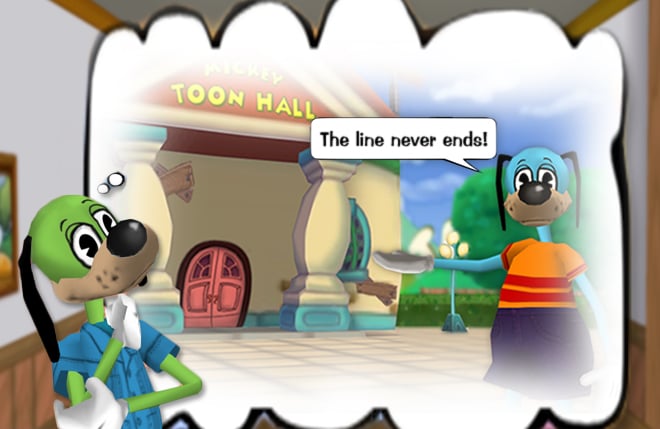 Day 4. In the PlayLine.
It has been three days since my adventure began, and I only have 207 seconds left until I can enter! No -- that's hours. Hrmph. A bit of a long wait to enter for a three hour tour, but hey: It's Toontown! Being a citizen of the town, I can say it's worth the wait. Just need to sit here. Alone. With nothing to do. It will be worth it. Heh, ha!
Day 14. In the PlayLine.
I am running low on food and water. In fact, I ran out 17 days ago. Make that 37. Where are the Toons, anyway? There is absolutely nothing here except a giant screen that tells me I have 156 hours left. Are there others like me? Where are they?
Is this even a line?
I'm beginning to wonder if this means 156 hours left until I can enter, or 156 hours left before my sanity is lost. I want to get off President Flippy's Wild Line.
Day 647. In the PlayLine.
Three years have passed. I do not know who I am, nor where I am. Where does this line lead to? My past self entered this line for a reason, one that I do not know. I have to continue. There are no exits in the room. I tried talking to a rock next to me. Then I tried eating him. He turned into an octopus and swam away into the sky. I don't like octopus. The screen reads that I have 2 hours left. It's all almost over. I'm soon to be reaching enlightenment. I'm going to reach the end of the PlayLine.
Day 973. In the PlayLine.
I have two minutes remaining until the door opens. This is it. This is finally it! THIS is the day, that I, Sir Max, will finally COMPLETE the PlayLine! The door is opening. The timer is up. I am stepping through the door into brightness. It's finally here! I am FINALLY ENTERING... Another... A-Another... Line... Haha. ha. HAhah. eheh. Ha.
The screen reads that I have 207 hours remaining. Haha! Ah, ahaha. Haha. Hah ha I'shafododo itma sdhaI'mfaljssorrydhfkJLG ALHASFJGASN DFLASJKHRGAOJLHNN;KLFGBAGJRGHAL FVL AGRAKHBA
Conclusion. Out of the PlayLine.
I finally know how you Toons feel. Without any doubt, those were the most grueling 56 minutes of my entire life. No longer will we have to face the suffering and oppression that this line has put upon us! Today, Toons, is the day that we will finally cross that line! We will eliminate the banners, rip the entrances, and dismantle the oppressors! WE WILL-- Oh, hang on. Just got a little message here. Turns out we are
absolutely not
allowed to do that.
I'll tell you what we can do, though: Extend the slots! Improve the PlayLine! Make it fair to all! From this day forward, there are now a total of
45 slots
released in the PlayTime groupings, as well as 45 Toons let in through the PlayLine in each batch. Finally, rather than being released at 2:00PM Toontown Time every day, new PlayTime groups will be released
every three hours
to ensure that all timezones get a fair chance of grabbing a time. Even the
Easterners.
We've heard your feedback, and we're always working to improve the Semi-Open Beta system for your enjoyment, as well as keeping it fair for everyone. Make sure to keep telling us what we're doing wrong! (And what we're doing right, too. Those are always cool.) If you keep your feedback to yourself, we'll never know what we can do better! I've gotten word that there are quite a lot of server-related updates coming on the way as well...
Keep your eyes peeled, and I'll see you tomorrow for Day Three of our Summer Celebration Update!
July 5, 2014 [ttr-beta-v1.3.2]
Maintenance:
• Various server stability enhancements.
• Add 800 new words to the Whitelist. Thanks for the suggestions!
• Custom resources now only loads textures and sounds to prevent cheating by editing/removing models.
• Disable Experimental anti-aliasing by default due to graphics card incompatibilities. For those who want to continue helping us test out this experimental feature, you can turn it on again by modifying "settings.json" in your Toontown Rewritten folder.

Website:
• General PlayLine stability improvements.
• PlayTime and PlayLine slots have been increased to 45 Toons.
• PlayTime slots are now released every 3 hours, rather than every 24 hours. If you miss one set, wait 3 hours and grab another!

---
Comments
Sorry! Comments are closed.
---
---
---
---
---
---
---
---
---
---
---
---
---
---
---
---
---
---
---
---
---
---
---
---
---
---
---
---
---
---
---
---
---
---
---
---
---
---
---
---
---
---
---
---
---
---
---
---
---
---
---
---
---
---
---
---
---
---
---
---
---
---
---
---
---
---
---
---
---
---
---
---
---
---
---
Back To Top