More News
The Fantastic Fourth
Posted by Sir Max on July 4, 2015 at 2:30 PM
Happy Explosion Day, 'gents! It's that time of year again when we can throw extremely dangerous flammable tubes into the sky and watch in awe as they burst into bright flames of a pallet of three distinct colors. You guessed right: It's the
Fourth of July!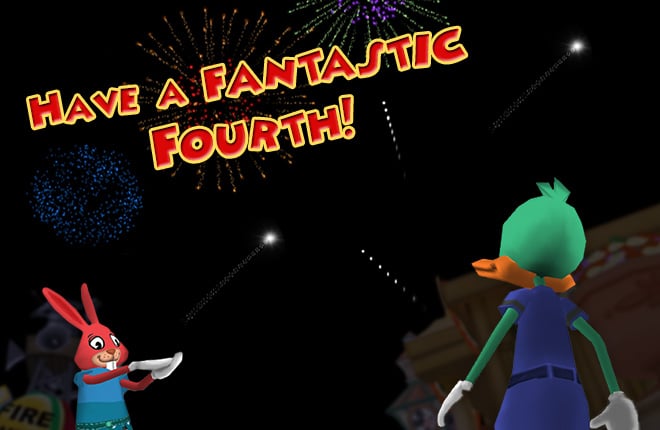 I went to some of my closest friends on the Toon Troop for making sure that these
Fourth of July Fireworks
go off with a bigger bang than ever before, which ended up marking #413 on the Sir Max List of Good Ideas.
Sadly, they didn't seem to have the same vision that I did. My pal McQuack said that he has been "
physically
and
emotionally
scarred" by my explosives and refused to open the door. Fat McStink muttered that he was too busy planning his own Fourth of July party. Finally, Shockley told me that he was all for it but based on his calculations on the plan that I showed him, at
least
250 square miles of Toontown would be burned down due to the show.
So the Fantastic Fourth group didn't really work out, but you can't stop a big Fireworks Extravaganza on explosion day - in fact, Explosion WEEKEND! Fireworks will be shooting throughout Toontown every hour until July 6th.
See you on the streets, and don't forget your flame-resistant headgear!
---
Comments
Sorry! Comments are closed.
---
---
---
---
---
---
---
---
---
---
---
---
---
---
---
---
---
---
---
---
---
---
---
---
---
---
---
---
---
---
---
---
---
---
---
---
---
---
---
---
---
---
---
---
---
---
---
---
---
---
---
---
---
---
---
---
---
---
---
---
---
---
---
---
---
---
---
---
---
---
---
---
---
---
---
---
---
---
---
---
---
---
---
---
---
---
---
---
---
---
---
---
---
---
---
---
---
---
---
---
---
Back To Top