More News
A Weight Off Your Shoulders
Posted by Fat McStink on July 18, 2016 at 9:00 AM
Boy, Toons, have I got news for you. It took quite a lot longer than we wish that it would, but thanks to myself and the Toon Troopers,
Toontown's Mac and Linux versions are now working
and better than ever before!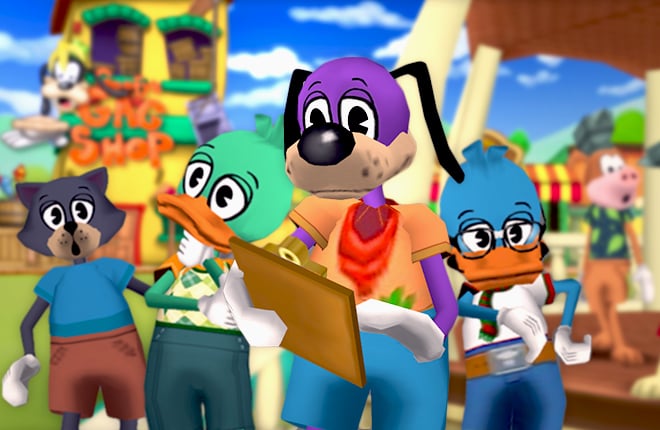 After hearing about our Mac and Linux launchers going out of order, I was heart-stricken. After all, since they were both launched
on my birthday
, I couldn't let them lie in the dust!
I enlisted the help of my pal Flapjack Thunderscreech, who helped launch the Linux Launcher
(Try saying THAT five times fast)
, along with Shockley and even McQuack who put their best foot forward on fixing the issues. After many hours of work, sweat, sleep, and ice pops -- we were able to get it working!
We know it's been tough having to deal with these issues, but we assure you the changes made were for the better. As an apology for the trouble you've been through, we've taken the weight off of your shoulders and put it onto your head by giving all Toons
an early access item from ToonFest 2016
-- which wasn't meant to be available for over two months!
Enter the code "
weight-off-shoulders
" by August 1st for the exclusive anvil accessory, and don't forget to use "
omgcon2016
" by the same date for those items. We're giving them out like madmen!
When it comes to issues like this, it can be frustrating to work through them -- but our team works their hardest until it gets fixed. We wish we could express how unhappy we are when you Toons don't have a fun experience, and it took our entire tech team to make sure you could get back in as quickly as possible!
Thank you for your patience as we introduced these major patches throughout July, and as always, make sure to contact
[email protected]
if you have any persisting issues. It's our job to make sure you have fun!
July 17, 2016 [ttr-beta-v1.12.1]
Maintenance:
• Mac and Linux versions of the game are now working again. Thank you for your patience with this engine update!
• Various code cleanup and optimization to prepare for future releases.

Bugfixes:
• Fix an engine issue when reaching the final round of the C.E.O.
• Fix a crash relating to gardening.
• Fix a crash relating to gifting.
• Fix a long-standing bug where the phone was impossible to access until moving it at your estate.
• Fix an issue with teleporting to estates from another district.
• Fix a crash in DA Offices when attempting to solve a laser puzzle.
• Fix the particle effect when receiving a new gag or gardening item.
• Fix an issue where gag trees could not be harvested.
• Improve client side performance in Bossbot HQ.

Tweaks:
• You can now press F10 to take a screenshot that includes debug information. This is useful when sending them to our support!

Known Bugs:
• Some players may experience crashes relating to audio on Macs. As a temporary solution, disable music and sound effects in the game settings to play without issue.
• Reports have come in that golf balls aren't doing a very good job at slowing down the C.E.O. -- we suggest sticking to the tables until the issue is resolved!

---
Comments
Sorry! Comments are closed.
---
---
---
---
---
---
---
---
---
---
---
---
---
---
---
---
---
---
---
---
---
---
---
---
---
---
---
---
---
---
---
---
---
---
---
---
---
---
---
---
---
---
---
---
---
---
---
---
---
---
---
---
---
---
---
---
---
---
---
---
---
---
---
---
---
---
---
---
---
---
---
---
---
---
---
---
---
---
---
---
---
---
---
---
---
---
---
---
---
---
---
---
---
---
---
---
---
---
---
---
---
---
---
---
---
---
---
---
---
---
---
---
---
---
---
---
---
---
---
---
---
---
---
---
---
---
---
---
---
---
---
---
Back To Top