More News
Don't Forget to Grab a Toontown Member Mailer!
Posted by The Toontown Team on July 25, 2016 at 12:00 PM
There's just one week left to grab a one-of-a-kind
Toontown Member Mailer
, and we want to make sure you don't miss out! This year's mailers contain three new trading cards from Series 4, as well as an official Toontown Postcard straight from Flippy himself.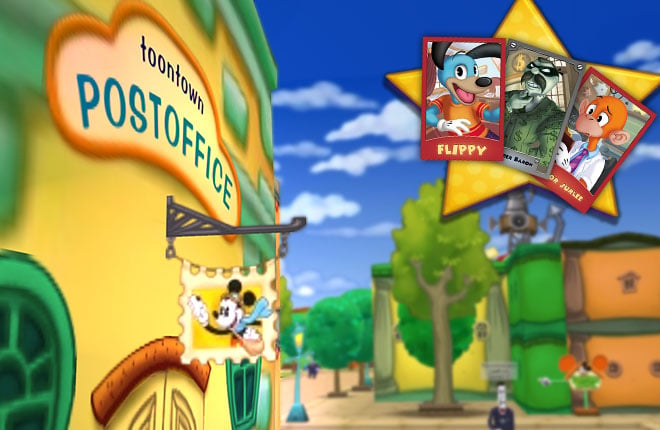 To guarantee getting your mailer, you'll need to have your envelope postmarked by
July 31st
. We've already sent out hundreds, and we would love to send out more as a thank-you to our many players!
Learn how to get YOUR Toontown Member Mailer!
If you've already gotten your Toontown Member Mailer, we want to see it! Post it on our Facebook page, send us a Tweet, or tag it with
#ToonEnough
to share a cool picture of your brand-new merchandise.
Say, speaking of
#ToonEnough
-- we ran a giveaway last week in celebration of reaching ONE MILLION players. The campaign was a huge success as we reached thousands of people to spread the word about Toontown!
One lucky Tweeter,
@BriWood15
, posted a picture of one of the old Toontown Member Mailers that Disney used to send out. Their post was the one that was randomly selected in our drawing, which means we'll be sending an exclusive Toontown poster straight to them. Make sure to send a "Congrats" for winning!
#ToonEnough Congrats to Toontown Rewritten on reaching 1 million players! pic.twitter.com/kr75xesRil

— BriWood15 (@BriWood15) July 20, 2016
The giveaway was a huge success, so you can be assured that we'll be doing it again. If you missed out or are bummed that you didn't get the poster, be patient and you'll have another opportunity!
Thanks for the support, Toons. As always, have fun in Toontown!
---
Comments
Sorry! Comments are closed.
---
---
---
---
---
---
---
---
---
---
---
---
---
---
---
---
---
---
---
---
---
---
---
---
---
---
---
---
---
---
---
---
---
---
---
---
Back To Top